If you're using Facebook to drive membership at your gym, congratulations – you're already ahead of the curve. But did you know that you can now use Facebook Messenger ads to stay ahead of the competition and improve communication with potential members?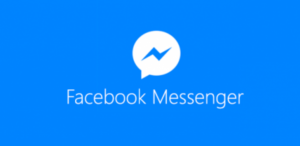 You've always had the ability to place Facebook ads in front of a target audience, then lead them somewhere beyond their Newsfeed. To an offer on your website or a landing page, for example. As of November 2016, you can also encourage prospective members to reach out to your gym instantly with Facebook Messenger ads.
Messenger as a destination for your ads
Instead of leading people to a URL outside Facebook, you are inviting them to click on your ad and start a conversation in Messenger. Here's an example of how MemberTracker recently did this: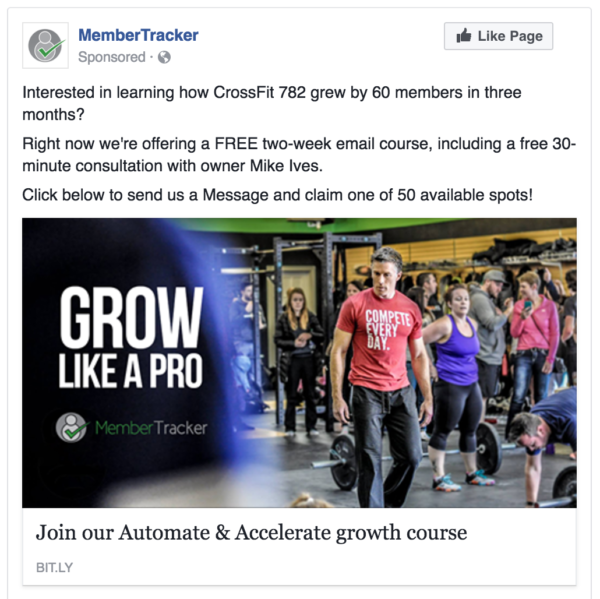 This ad appears in the user's Newsfeed as usual. While we could have asked users to visit the Course landing page and sign up, it's actually faster for them to sign up by messaging us. This way they don't have to visit a separate page and fill in their information.
With the Messenger approach we follow up right away, thanking them for their interest and asking them to confirm their email address inside Messenger. It's more personal and leads can respond when it's convenient for them.
The benefit of using Facebook Messenger as a destination for your ads is twofold:
It allows you to instantly start a conversation with prospective gym members using a platform they trust;
Once someone has messaged your business on Facebook you can follow up, engaging them on a personal level and deepening the connection with each lead
While a cold audience might not respond with gusto when asked to message your business, warm audiences are a great fit here. People who've visited your website in the past is a good example. You could use your ad to ask a retargeted audience if they have any questions about your classes or fitness approach.
Most Facebook users are using Messenger already to keep in touch with friends, so businesses are quickly catching onto the trend.
Sponsored Messages
Beyond using Facebook Messenger as an ad destination, you now also have the option to send Sponsored Messages. In this case, you can send messages to Facebook users who've already reached out to you through Facebook Messenger. You're basically paying Facebook to have a 'chatbot' continue conversations for you in Messenger.
This type of ad can be great for keeping in touch with potential members who've already made contact with your gym. Offer them something to pique their interest and get them back through your doors.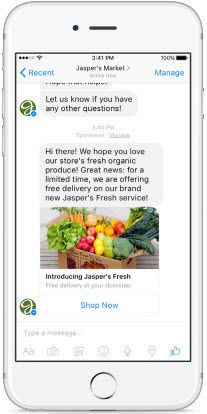 In the above example, Jasper's Market reaches out to a Messenger lead with a new offer. There's even a link so the user can visit their online store directly from the message.
Both types of Messenger ads are created through Facebook Ads Manager. There are just a few small differences to setting up traditional ads. For a great rundown of how to use Facebook Messenger ads, check out this detailed blog post from Digital Marketer.
If you're new to the world of online marketing and could use some pointers, sign up for Mike's Automate & Accelerate email course. It's free, and you'll receive 12 days of emails. Each one will cover a different online marketing topic based on Mike's years of experience as a CrossFit Affiliate owner and the owner of a Taekwondo school.