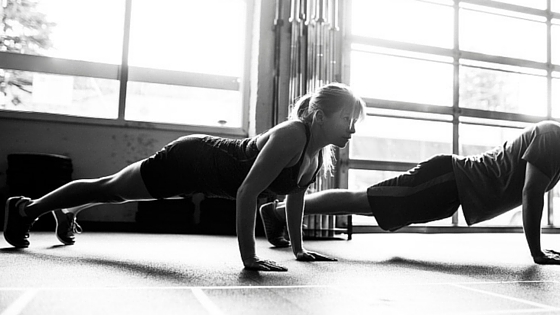 For the uninitiated, a call-to-action (CTA) is a word or phrase, usually in the form of a link or button, that spurs website visitors to take a specific action. You've seen them countless times on sites for clothing, software and even food.
'Buy Now!'..'Sign Up'..'Get My Discount!' They make it look so easy – so why aren't you raking in new clients through your gym's website?
Well, you first need to understand how an effective call-to-action works, and what role it plays in your online marketing. When you fit a CTA into your website in a way that cuts through the clutter and gives people what they've been looking for, you've got a winning strategy.
In this post we'll discuss some CTA best practices, giving you a clearer picture of how you can use this small but mighty tool to build your subscriber list, get new clients through your doors and ultimately increase your gym's membership.
Design your call-to-action with a larger strategy in mind
First things first – your CTA needs to be part of your overall marketing funnel for it to be effective.
Let's imagine the owner of a small yoga studio has a great offer for yoga enthusiasts who land on her homepage: When they sign up for an introductory class, they immediately get access to a free white paper, '10 Awesome Morning Yoga Stretches'. So, each interested visitor enters their name and email address, then indicates which day and time they'd like to come in for their class. Five minutes later, they check their email and see the free content that was promised.
What do you think might happen in the days and weeks to come? Well, each of those visitors who signed up no doubt had every intention of visiting the studio for their introductory yoga class. But for a significant number of them, life got in the way and they never showed up.
What's worse, the owner didn't have an automated follow-up email campaign in place to re-engage these lost leads. So for all the effort that was put into writing the white paper and redesigning part of the homepage to accommodate the CTA, this owner only got a handful of intro students through the doors.
If this campaign had been given the benefit of a long-term strategy, the owner could have followed up with those who didn't show up for their free class with an email series that explained the benefits of yoga and her unique approach. This would have served as a repeated reminder of the free class awaiting them, and would have given them a chance to reach out and easily reschedule.
[Free eBook] Grow Your Gym's Membership
Keep your CTA simple and obvious
What's the goal in asking people to click on your call-to-action: subscribe to your newsletter? Download a piece of content? Sign up for an introductory CrossFit class? Whatever it is, you'll want to express it in as few words as possible, and using language anyone can understand.
Reebok CrossFit Fifth Ave does a great job of this on their landing page: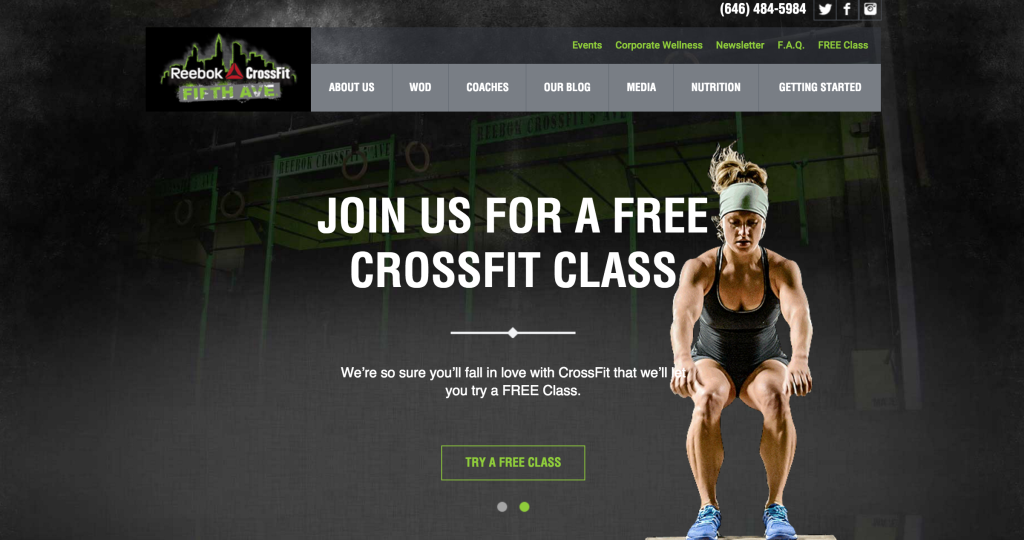 The simple and obvious CTA, 'Try a Free Class' offers an immediate reward to those who provide their email address. The placement of the CTA in the middle of the page, unobstructed by other buttons, imagery or text, is ideal.
When you keep things simple, your audience knows exactly what to expect. When they know what to expect, they're more likely to trust in your business enough to follow through.
Along with simple messaging, try to use active phrasing in your CTA buttons. Words like, 'Try', 'Find Out' and 'Sign Up' all indicate action on the part of your prospective client, helping to propel them toward the end goal.
Point out a strong benefit to taking the desired action
Can you think of the last time you walked into a department store, picked up a $75 item that wasn't on your list and thought, 'The packaging looks nice, so I may as well buy it!' Unless you're somewhat of a shopaholic, this probably doesn't happen all that often. Similarly, expecting site visitors to take one look at your call-to-action and decide it's something they need is a little shortsighted.
What prospective clients need before anything else, whether they be in a store or on a website, is a good reason to buy. And this reason usually comes in the form of some benefit to them; in other words it solves a problem they currently have in their life. For those visiting a gym or fitness page, this problem might be stubborn belly fat, boredom with their current workout routine or the need for a gym whose pricing is in line with what they're able to spend each month.
Here's an example of a benefits-focused call-to-action from Breathe Yoga in Toronto: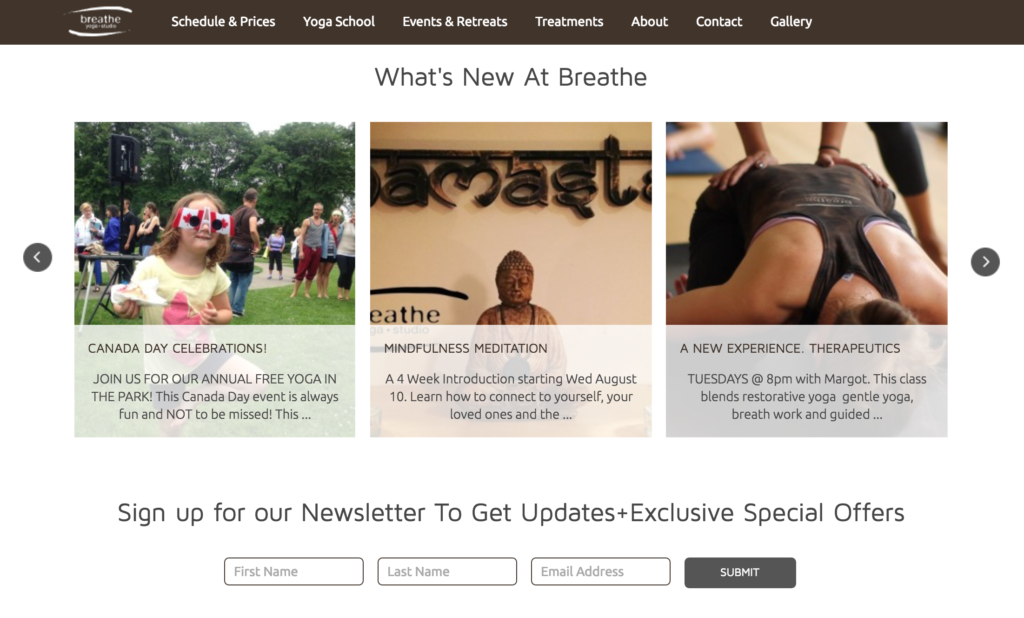 Notice how the studio isn't simply asking for an email address without offering any benefit in return; the promise of updates, plus exclusive offers will entice those already interested to take that extra step and join the studio's list of subscribers.
Place your CTA where it's highly visible
We advise placing your call-to-action somewhere on your site where it can be easily seen by visitors, and where it makes sense for someone to take the action you're urging them to take. 360fit in Halifax does a fantastic job here: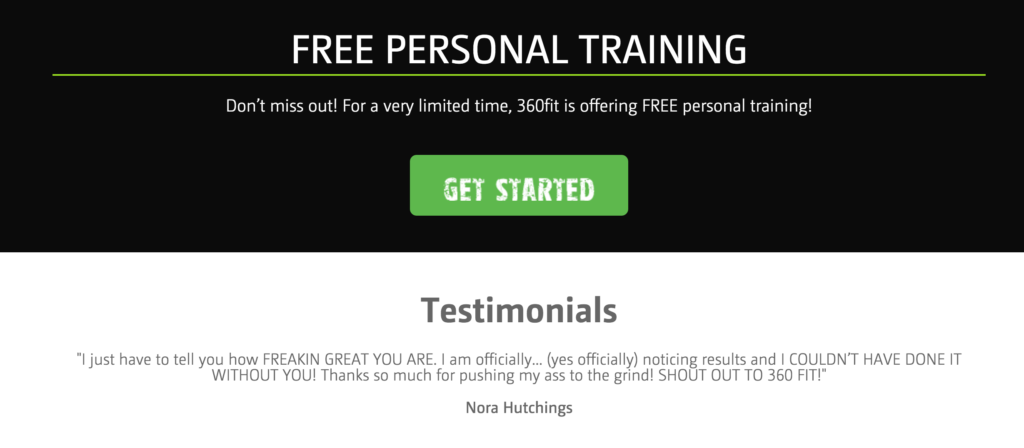 Positioning their CTA between a strong headline and an awesome testimonial packs a double punch for visitors, making their decision feel that much more intuitive.
Generally, you'll want to make sure your call-to-action is 'above the fold'. That is, visible in the top half of your website or landing page. Online shoppers are fickle, and many will graze the top section of a website without bothering to scroll below the fold, or even navigate to other pages.
Be sure to make the colour of your CTA contrast with the background of your page. This will make it hard to miss as visitors navigate – you want as little distraction as possible.
Not sure how to make your CTA button look the way you want it to? Enlist the help of your website designer, or a tech-savvy friend. Another option is to subscribe to an online software that makes adding CTAs to various web pages super easy.
[Free eBook] Grow Your Gym's Membership

Don't ask for too much information
When someone feels they aren't taking too much of a risk by taking your desired action, they are more likely to follow through. Some landing pages ask for so much information once you click the CTA button, you feel like you're signing your life away for a business you know next to nothing about!
There are differing views on what constitutes the 'ideal' web form. In our experience, the less involved the offer, the less you ask for, and the higher the value or time commitment, the more you can ask for.
Here at MemberTracker we have a call-to-action on our blog that asks visitors to download a free eBook, which provides marketing tactics for increasing your gym's membership. We simply require an email address to opt-in.
Contrast this with another CTA on our homepage, where visitors can start a free trial of the MemberTracker software. This is a more highly involved offer in that it's asking for someone's time and a short-term commitment to the company. This lead form requires a name, email address and password to continue.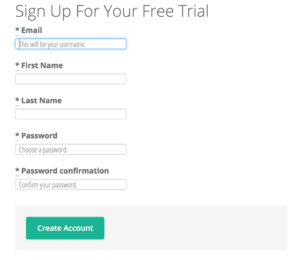 ____________________
In the end, often the best way to figure out if something works, is to try a few versions over time. People shopping for yoga classes will differ from those looking for personal training, who will be different from potential CrossFitters etc. Don't be afraid to test two or three CTA buttons on your website (with a strategy in mind, of course!) and see what sticks. Good luck!