Contributor: Mike Ives is the founder of MemberTracker and an owner of CrossFit 782
This is the first of a three-part series that outlines how my CrossFit gym grew by 45 new members during the month of January. You can now access Part 2 and Part 3 to find out how we used onboarding and retention tactics to grow our gym membership to where it is today.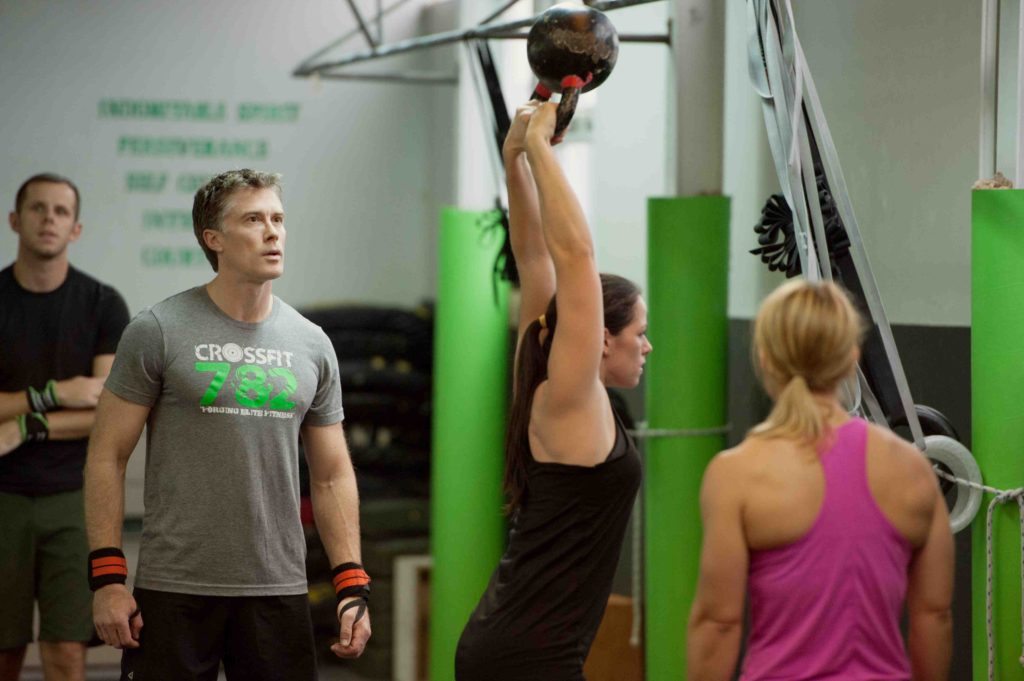 I should first mention that I've experienced many New Year's rushes, both at my CrossFit box and my Taekwondo school. While new gym membership numbers have always spiked to some extent in January, the numbers we saw this year were much higher. So I can't attribute our January growth to the post-holiday rush alone, and will explain below how strategic marketing played a much more important role.
At the beginning of 2017, we signed up 29 regular members at CrossFit 782, as well as 16 new teen members. Within a single month we managed to earn 10x our $378 advertising spend in Fundamentals revenue and much more than that in projected annual revenue. I wanted to share how we achieved this significant growth spurt, and give you some ideas on how you can see similar growth.
I should also explain that, while I do spend significant time managing CrossFit 782, which I co-own with my business partner, I divide my time between the gym, my Taekwondo school and MemberTracker. So like many of you I understand the concept of wearing different 'hats'. I can also say with confidence that you can make time to grow your gym, no matter how many hours in the day you spend on other priorities.
Some Background
In October, my business partner and I closed the deal on our new facility, which is less than half a mile from our previous location. When we moved in December we had 110 members (85 regular and 25 teens), plus 10 non-paying members (owners, family and instructors).
Our new facility has almost twice the training area and much better exposure as it's on a busier street. We made sure we were moved in before the New Year so we could take advantage of the typical rush during this time.
When we opened the new gym, we were basically hoping to grow by 30 members within six months – so about five members per month, give or take. Needless to say, we blew our original goal out of the water, and in a much shorter timeframe than anticipated.
Up until our move we'd been mostly promoting classes organically, both through typical word-of-mouth and Facebook. As you'll read below, we've become more strategic as we've grown and have found a couple of methods that are particularly good at steadily attracting the members we want.
Source #1 – Drive By
To take full advantage of the increased exposure we enjoy at our new location, we created a shorter URL – cf782.com – that leads directly to a sign-up landing page. Our regular web address is www.crossfit782.com, so the shorter URL is easier for people driving by to remember.
We had some new, simple signage designed and placed outside the building, both as part of our window display and a stand-alone sign near the road. The new URL is displayed on the window signage, and we've had several prospective members contact us as a result.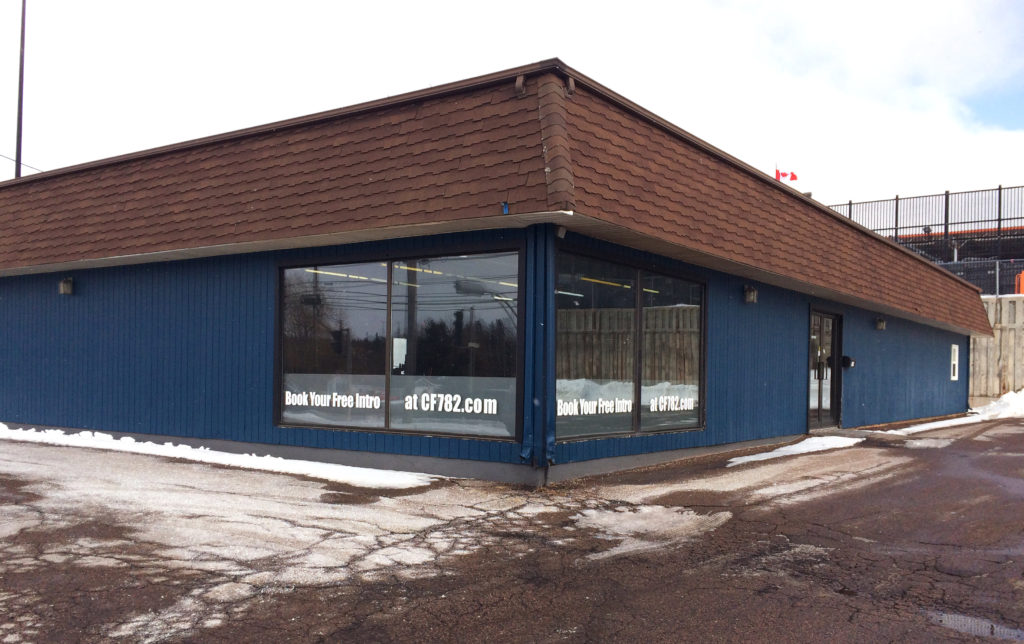 Nothing fancy, just a simple URL that people can check our on their phone or at home.
Source #2 – Referrals
First of all, I'm a big fan of customer referral programs. There are so many reasons why they're awesome as a marketing technique:
Referred members retain way better because they already know someone else at the gym, so the community aspect is there from the start;

Your existing members will refer people who are most like them, and people they'd like to see at their box. Again, this helps build a great community of like-minded members;

Referrals keep your existing members at the gym as they now have a friend there with them
I recently updated MemberTracker so that it automates referrals. How? By connecting any new leads/intros to the members who referred them through email or Facebook. It then automatically gives the member their credit when the referred member joins or pays. This method of referral marketing has saved us a lot of time and makes the referral process pretty much seamless.
Source #3 – Facebook
As effective as the above two methods were, Facebook Advertising proved to be the best. Most people who came to our free intro classes said they found us through Facebook, clicked on an ad and went to our landing page.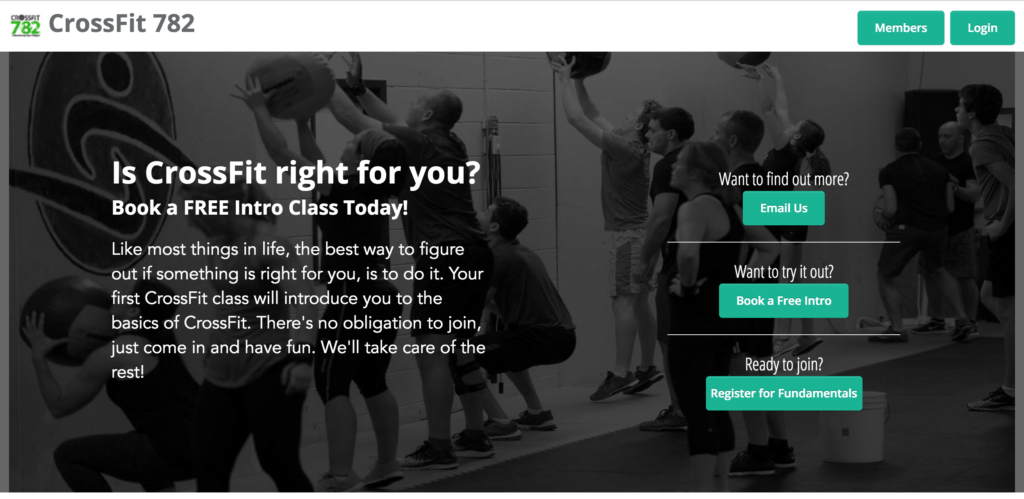 CrossFit 782's landing page (created through MemberTracker) gives visitors a chance to email us or sign up for a free class on the spot.
Ads vs. Promoted Events
While we tried standard Facebook ads and Boosted Posts, we also created Facebook Events for our free intro classes and then promoted these from our page at $20 per event.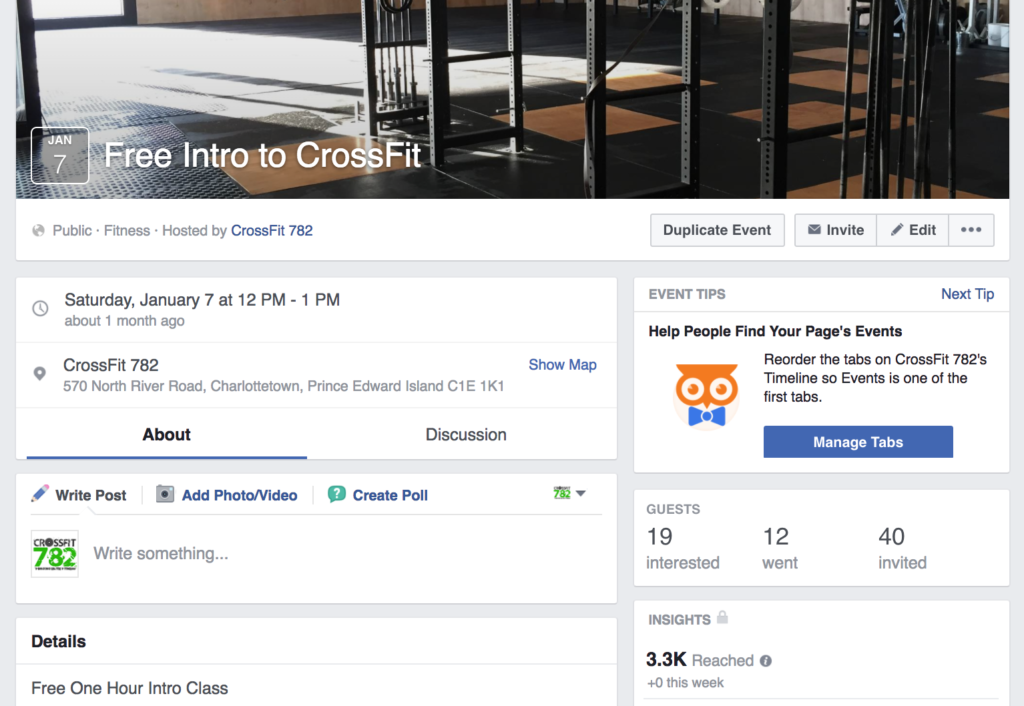 Some weeks the ads and Boosted Posts outperformed the promoted events, and other weeks it reversed. My advice would be to experiment like we did and see what works for you.
Facebook Live
We also used video ads, which were always solid. We ran these for $5 to $10 a day on Facebook. If you're worried about the production value of your videos – don't! Just use your iPhone; in many cases these videos do much better as they look more genuine and less like an ad.
A good way to get started is to use Facebook Live (available in the Facebook Pages mobile app). Facebook is really pushing this type of content right now and will share it to a ton of people for free. If you aren't sure what to use as the subject of your video, try shooting a warmup or game; something that shows how much fun people are having at your gym.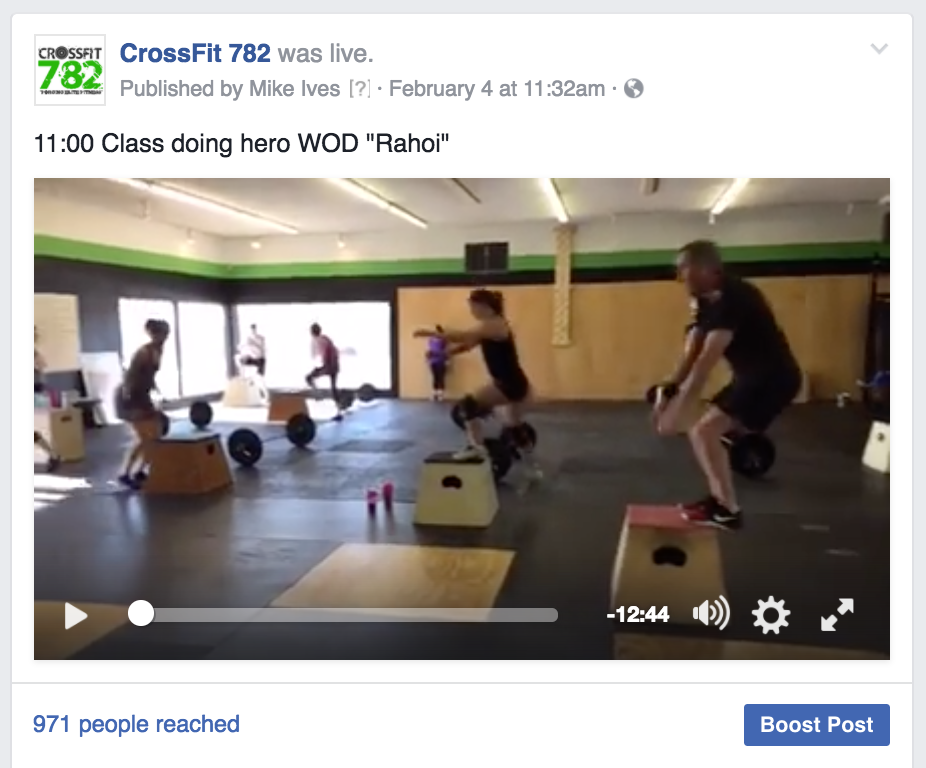 I actually just started using Facebook Live for MemberTracker as well. You can 'Like' our Faceboook page if you're interested in checking out future videos there. Each one is meant to help gym owners with membership growth, retention and other topics.
Custom Audiences & Retargeting
In anticipation of the move, we started to build some custom audiences in Facebook. We then retargeted these people with the ads mentioned above. There are a few ways you can use Facebook's custom audiences tool, so experiment here to figure out what works. Here are a few things we've tried with success…
Video engagement is a great way to create a custom audience. That is, creating an audience in Facebook of people who've viewed a particular video. For example, we posted a video of our teens in October that we promoted to everyone in our area. Then in December, we used a shorter video to direct people who had watched 50 – 75% of the original video to our landing page (cf782.com).
We also placed the Facebook Pixel on our website so we could specifically retarget any Facebook users who had visited our website previously. The pixel is just a piece of code that anyone with a Facebook account can place on their website. It lets you track visitors as well as people who've taken a specific action based on a Facebook ad (e.g. signed up for a free class).
A third approach that worked great for us was Friends of Fans. Compared to other pages we don't have a ton of Likes but our 1,100 Fans have a lot of friends. We can advertise to this group using the Friends of Fans audience when setting up the targeting for our ads. This is awesome as it gives you instant social proof; Facebook users who see your ad will see that their friend(s) have already Liked your page.
10x Immediate Return on Investment
Overall, we spent $378 for all of the promotional tactics mentioned above (apart from the signage), and earned approximately $4,000 just on Fundamentals signups (10x ROI). On top of that, this will be an increase of almost $25,000 in annual revenue, even if only half of these new members stay. And honestly, to estimate 50% retention is conservative, as we normally have higher retention numbers.
I hope this has given you some good ideas on how you might promote your gym and classes this year. The great thing is that, for a really modest budget, you can truly blow it out of the water with Facebook as well as customer referrals.
Even with our significantly larger membership, we continue to follow a small group approach to Fundamentals: usually 4-6 people over four classes with the first class being a free intro class. We find this to be a good balance between teaching people everything they need to start and keeping them interested. If you are interested in seeing what we do for each class, subscribe or email me directly and I will send you the curriculum.
The next two parts of this series will go through our member onboarding process at CrossFit 782, and cover what we are currently doing to retain members in the long-term.
Like this post? Sign up for my new Automate & Accelerate email course, and receive 12 FREE emails that follow up on this series, providing in-depth advice on the tools and tactics used by CrossFit 782 to continually grow our membership – you can do it, too!