Contributed by Mike Ives, owner at CrossFit 782 and founder of MemberTracker
Normally at this time of year, our team at CrossFit 782 has a chance to catch our collective breath after the New Year's rush. But this year has been a bit different. In January we had our biggest month ever by far, with 45 new members joining. It's now almost mid-March so I can say that retention has been great, with 42 of those members paid up and regularly coming to class.
We did recently move to a new location on a high traffic street, so we've definitely seen a jump in membership as a result of that. But the bulk of our recent growth can actually be attributed to some online trial and error that has evolved into a kind of gym marketing system for growing our membership. This system works to attract leads, get new members in the door and keep them there. It also involves online tools that automate growth to a large extent.
The result has been more members and less legwork for myself and my team, allowing us to focus on coaching and other aspects of the business.
Below I'll describe the method we use to attract and engage new members; I'll also include some recommendations and resources that can help you along the way. It isn't complicated, but it does require a willingness to experiment, and perhaps try some online tools that are new to you.
Once you find the right marketing mix, you can implement a system to automate your growth, setting your gym up for continued success.
Join Mike's mailing list and receive the onboarding content he uses to introduce new members to CrossFit:
Choosing the right platform and offer
In the startup world (which provides a lot of great insights for the rest of us, by the way) the art of attracting the right prospects to your business is known as acquisition. This works for gym marketing as well, and can involve anything from online ads to live events – the trick is to hone in on the tactics that work for your business, and then to direct your message to the right audience.
What we like to do at CrossFit 782 is build a new member's interest as much as possible, and as soon as they come in for their first class. We want them to not only feel as though CrossFit is accessible and the right choice for them personally, but that we have an informed and welcoming community of coaches and members. You should think about taking a similar approach to CrossFit marketing using online tools as well.
Personally, I've had a lot of success with Facebook in acquiring new members. There are a few ways you can use it as a marketing platform, from posting regular content for your Page followers to running lengthy ad campaigns. I recommend a balanced approach, where you make use of the Facebook tools best suited to your personal goals.
At CrossFit 782, our Facebook mix has included posting content (mostly video) that's of direct interest to our current members, and running targeted ads to entice people in our local area to come in and try a free class. Here are a couple of examples: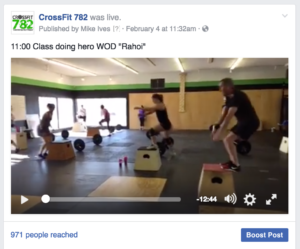 A simple video of members doing box jumps during class. These videos are fun, super easy to do and remind members to get back in to class.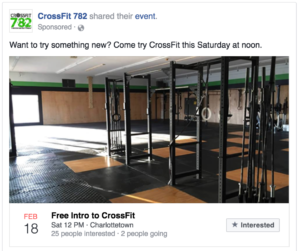 We often promote upcoming Events through Facebook; for extra exposure we'll Boost the post for $20. This Event ad promotes a free intro class for new members.
With a budget of $20 per Event and $5/day for longer-running ad sets, we've brought in dozens of new members over the past few months at a fraction of what it would cost to place pricey newspaper ads or host large-scale events.
The new Facebook Live video functionality has also served us really well at CrossFit 782. We do most of the filming using our iPhones to take videos that are anywhere from 30 seconds to several minutes long. They usually get a few hundred views and have been a great way to consistently engage our membership. I highly recommend giving video a try as part of your gym marketing mix.
How does one go about using Facebook Advertising if they've never set up an ad campaign before? Instead of taking up a lot of space here explaining the ins and outs, here is a resource that should get you started…
The Fitness Owner's Guide to Facebook Advertising
My team created this guide last year, once we figured out how to best use Facebook ads to promote MemberTracker. It does require an email opt-in, which just means you'll receive a series of emails that provides supplemental advice to correspond with each section.
Of course, Facebook isn't the only kid on the block and another ad platform might even work better for your gym, depending on the average age of your target member. The nice thing about Facebook is that it attracts a very wide audience and you can also advertise on Instagram through your Facebook ad campaigns. See what's out there, experiment and then allocate the largest part of your budget to the platform that yields the best results.
Before you get actual ads in front of people, you'll need to decide what to offer them. When crafting your offer, think about what your intended audience needs that you can provide. In other words, offer something that resonates with your ideal member. We usually fall back on the Free Intro Class, which has proven successful. But there are other ways to go, including offering free content that might get people in the door. Try segmenting your audience, making two separate offers and seeing which one resonates.
When choosing your platform and offer:
| | |
| --- | --- |
| DO… | DON'T… |
| Know who your target audience is beforehand, and where they are hanging out online. | Choose a social media or advertising platform just because it's trendy. |
| Spend some time thinking about your offer, and test if necessary. | Blow your marketing budget in one place without first testing its ability to bring you leads and new members. |
Encouraging opt-ins
Once you have a social media and/or advertising presence, prospects will begin to click on your content or offer. You need to take them somewhere, and not just to your homepage! You will need a clear, online destination where prospects can learn more about your offer and opt-in to become leads. This is where a landing page comes into play.
If you're brand new to the concept of landing pages, check out this blog post we published a few months ago. It introduces fitness owners to the 'why' of a landing page and shows you how to get started.
My gym currently uses a landing page that showcases our Free Intro Class offer and gives visitors the option to do one of three things:
Reach out to us by email to find out more;

Book a free class;

Register for Fundamentals and become a member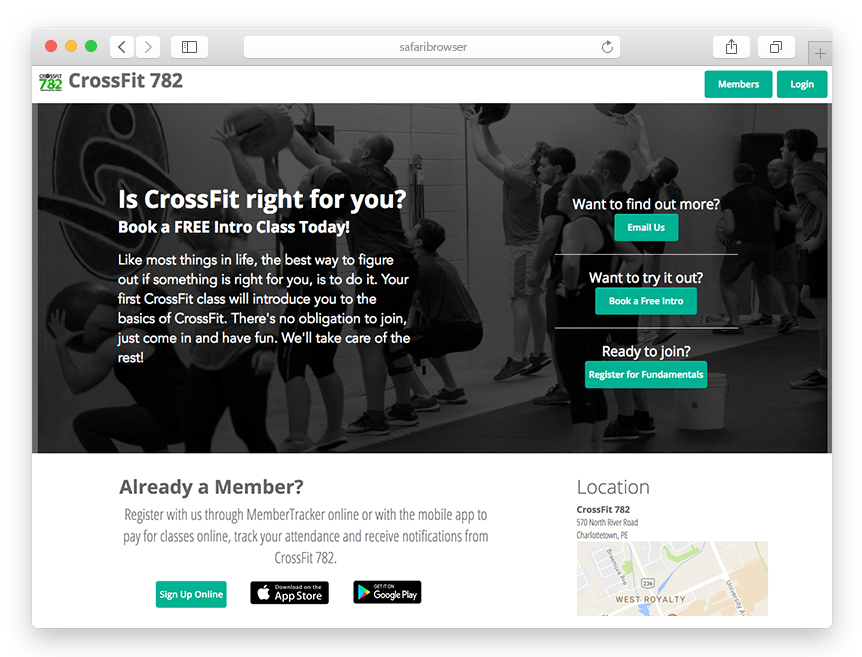 Our landing page for CrossFit 782. Visitors aren't distracted with a lot of info and are encouraged to take action on-the-spot.
If they click the 'Book a Free Intro' call-to-action they are immediately given a simple opt-in box to fill in: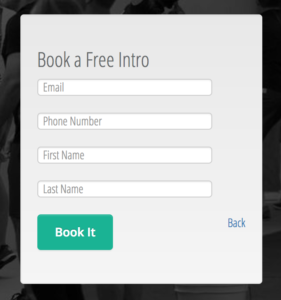 I then receive an email telling me someone has signed up (more on that later). If our visitor chooses to register for Fundamentals, they are taken to a separate page where they get a bit more detail, fill out their information, and create an account for themselves as a member: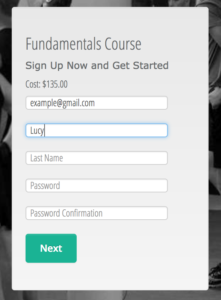 Again, I would then get a notification that a new member has signed up, allowing me to reach out to them right away.
A good landing page is all about clarity and simplicity. While your website provides visitors with everything they need to know about your gym, your approach, your coaches etc., your landing page serves the single purpose of building interest in a specific offer and making sure they're given a clear opportunity to follow through.
Get your landing page set up in minutes with MemberTracker! 30-Day FREE Trial now available.
When setting up your offer online:
| | |
| --- | --- |
| DO… | DON'T… |
| Display your offer using a dedicated landing page. | Offer more than one thing on your landing page. |
| Make your opt-in box simple, with as few required fields as possible. | Wait more than a day to contact leads once they've opted in or reached out to your gym. |
Tracking leads toward membership
Alright, so your offer is out there and interested leads have started opting in on your landing page. What next? Well, there's little point in collecting the email addresses of potential members if you don't have a way of following up. You need to keep track of each lead's progress as they enter your marketing pipeline, moving them confidently toward the next step.
As far as lead tracking, you can get by using something like Google Forms or Trello to keep a record of new people as they join. The main thing is to be able to categorize leads (e.g. by month joined, fitness level) if needed, and to have a grasp on what stage of your pipeline they're at. Here's what CrossFit 782's lead tracking page looks like: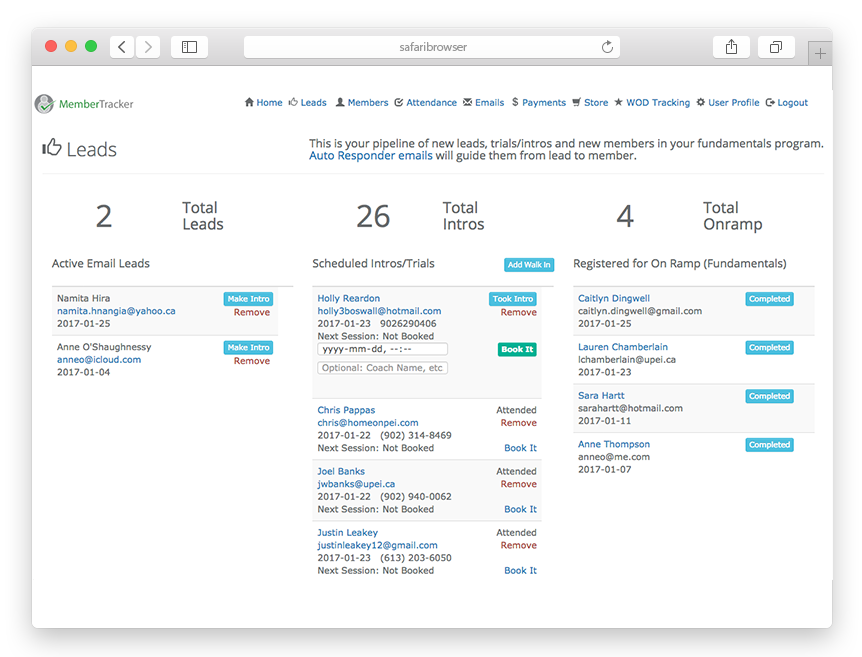 I built this tool as part of MemberTracker; it shows our email leads in the left column, those who have scheduled an intro class in the middle, and new members who've registered for Fundamentals on the right.
The beauty of such a system is that it moves leads from one stage to the next without much effort needed on our part. Say someone starts off by emailing us (left column). They soon schedule a first class and are moved to the middle column automatically. Once they take the class I use the 'Took Intro' button to mark them as attended. Finally, they register and pay as a member and are moved to the final column. This makes tracking leads super easy and convenient, and our team always knows who's at what stage in terms of membership.
As you begin tracking leads, you will naturally notice how many drop out at various points, as well as how many stick around and become members. This process will prove very useful over time as you build a cohesive picture of onboarding and retention at your gym.
Hands-free communication
As you saw above, tracking each lead's progress toward membership will help you and your staff stay organized. Providing these leads with the information they need to make an informed decision about joining your gym is what drives conversions. Email marketing can be a great way to transition leads to membership, and we use it as part of our onboarding strategy all the time.
There are a few ways we like to engage leads by email once they've expressed interest in our classes:
Thanking them for attending their first class;

Sending automated reminders of upcoming classes;

Providing links to CrossFit videos of basic movements;

Providing nutritional information to help reach their goals
Again, we automate these emails so we don't have to sift through addresses and figure out who's supposed to get which message at what time. When you automate the process of communicating with leads, this becomes a natural part of your marketing and onboarding strategy.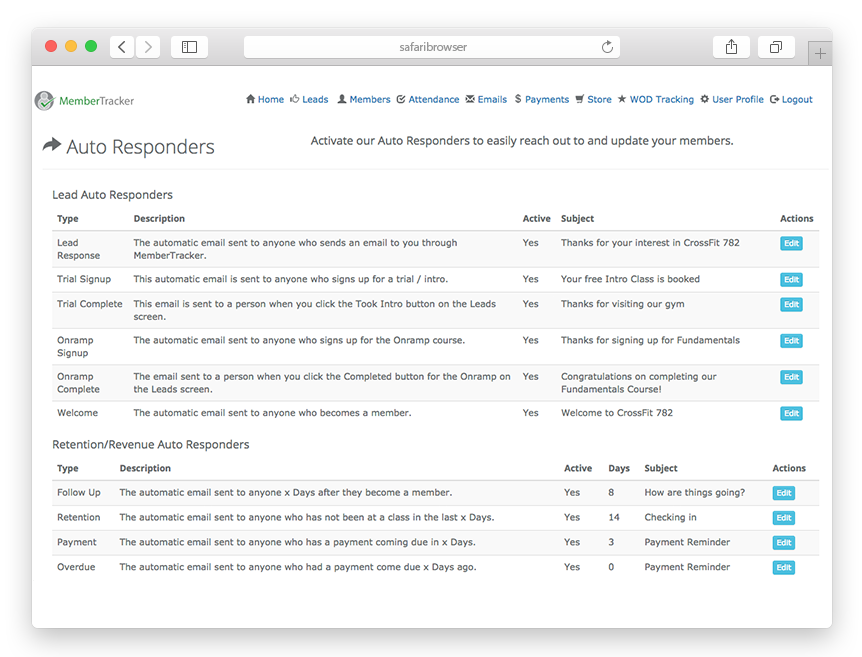 An overview of the autoresponder emails CrossFit 782 sends to leads and members. All we have to do is edit them occasionally or add new ones as needed.
Join Mike's mailing list and receive the onboarding content he use to introduce new members to CrossFit:
We've recently started sending reminders for Intro sessions by text message as well. While you definitely need permission to approach people this way, open rates are generally really good – people are less likely to miss or ignore a text than they are an email.
When reaching out to leads and members via email:
| | |
| --- | --- |
| DO… | DON'T… |
| Be consistent, creating an email schedule in advance. | Send the same emails to everyone (instead, segment based on behaviour). |
| Use email automation software to save time and stay organized. | Talk only about yourself and your business (vs. addressing members' needs). |
| Write in a personable, engaging style that lets members get to know you. | Bombard your list with constant emails. |
Providing value via content
You can see above how keeping in touch with leads and members can really pay off. You do, however, need to make sure you're providing the right content.
Excited about joining CrossFit, a lot of new members start searching online for information about CrossFit movements, nutrition, etc. However, there is a lot of useless (or just plain wrong) information out there, so help your members out by sending them information that you have put together personally.
Providing added value to members through relevant content is something we do throughout the membership lifecycle. What you send your leads and members is just as important as the act of reaching out in the first place and is a great way to build a long term relationship.
Some of the content we've sent to new members includes CrossFit movements (with video links) and information on nutrition, including an introduction to the Paleo and Zone diets. This content is part of the automated email series we send, so we don't have to worry about sending each document manually to each new member.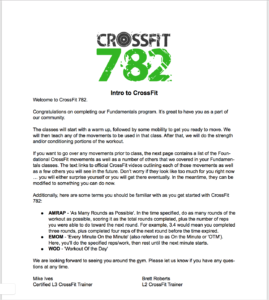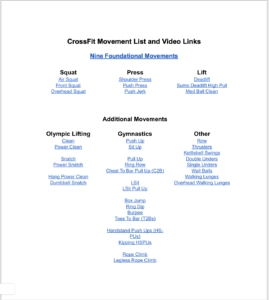 This is the first piece of content that new members get at CrossFit 782: An introduction to the gym and how classes work, some common CrossFit terminology, and a movements list with video links.
When new members are given the chance to 'study up' on CrossFit on their own time, their interest tends to grow. Reaching out with regular content also makes it clear that new members can get in touch with us any time, should they have questions or need extra support.
You can think of the emails you send leads as a connecting bridge between their first contact with your gym and their realization that you're the right choice for their fitness needs. This is your best chance, apart from class time, to make a stellar impression and show leads why your gym is unique.
__________________________
Through a combination of smart marketing tactics, precise tracking and consistent member communication, CrossFit 782 has experienced significant growth. I'm confident that your gym can see steady gains by making just a few, strategic changes to your own system of attracting and onboarding new members.
I love discussing marketing and growth with fellow small gym owners, so if you're looking for a particular resource or just want to discuss an idea, reach out at mike@membertracker.io.
Join our email community and receive content aimed at helping you automate and accelerate your growth: