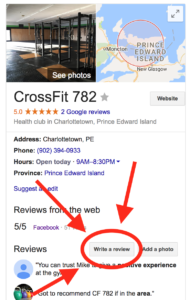 Want an awesome way to get more members into your gym? Encourage positive online reviews from your current members using Google My Business.
In addition to giving prospects a good feeling about your gym, Google reviews can boost your standing in the search rankings.
First you need a Google My Business page. If you don't already have one, set it up here right away: Google My Business.
Once you have one, Google yourself … my apologies if that sounds inappropriate, but you know what I mean. Click below to open Google:
Once you find your business, then do the following:
1. Click on the 'Write a Review' button in the Knowledge Panel of your My Business listing
2. Copy the URL from your browser
3. Go to goo.gl, paste in the URL and generate a shortened URL
You now have a unique Google Review link. Share this short URL with your members in emails, texts etc. and grow your Google reviews.
Here is the one for my gym – https://goo.gl/uY2i8l
This is super simple and easy to do. I sent this out to my members and within 2 hours my reviews went from 2 to 22 (happily they were all 5 stars).
And in case you were wondering…yes, we are building this into MemberTracker so a review request can automatically go out to your members via email. Cool huh?