CrossFit is a unique beast, as anyone who hits the 'box' each week knows. It fosters a strong sense of community among its members and celebrates intense workout routines that make non-CrossFitters jaws drop. As an incorporated business with a trademark, CrossFit requires gym owners or 'affiliates' to adhere to some specific rules. For instance, posting WODs or 'workouts of the day' is a must for each affiliate website. So we were somewhat surprised to see the scope of different CrossFit sites that are out there; from overall design and menus to the presence of blogs and social media options, there's a lot of creativity.
We thought we'd sift through a few (ok, more like a few dozen) CrossFit sites in major cities across North America and come up with a list showcasing what the best ones are doing right, based on today's digital marketing best practices. Whether you're an affiliate owner or the proprietor of another small gym, we hope the reviews below will give you some pointers on how you might improve your own site. There's no one-size-fits-all here, but you'll notice some trends as you scan your way through.
FREE eBook: Grow Your Gym's Membership
A few things to note before you get started: 1) We based our critiques on how useful the sites are to new visitors and people interested in CrossFit. That is, we assume the point of most websites is to bring in new clientele, not just act as a hub of information for current clients. 2) Each site on the list appeared on the first page of our Google search results. Our thinking was that, even if you have the most attractive and functional website out there, it won't matter much if people in your area can't find you (See this post for advice on getting started with SEO). 3) This post has nothing to do with the 'bestness' of the gyms themselves (although we're sure they're great); we're only talking websites here. Even the most beautiful, customer-friendly business can have a lacklustre digital presence, so don't take this post as an endorsement of the services these gyms provide, or as a cold shoulder toward those not mentioned!
Finally, some automatic 'deal breakers' that prevented any site we looked at from making the list:
Sites that had too many rotating homepage slides or other moving/shifting parts – sensory overload!

Sites that didn't include a clear call-to-action – or had too many – on the homepage
Loud music as soon as you hit the page (we don't know anyone who enjoys this)
Unreadable/obscured text or super slow load times
Without further adieu, here's our list of CrossFit gyms that are doing a whole lot right…
Homepage starts strong with a well-made video showing NYC scenes, people prepping for workout, lifting weights, box jumping…all set to dramatic music – who wouldn't want to work out here?

Simple CTA at top right: "SIGN UP FOR CLASS" makes it easy for first-time visitors to know where to go

Contact details are also clearly visible at top of page

Menu is clear and has limited options, increasing likelihood of would-be CrossFitters signing up without getting distracted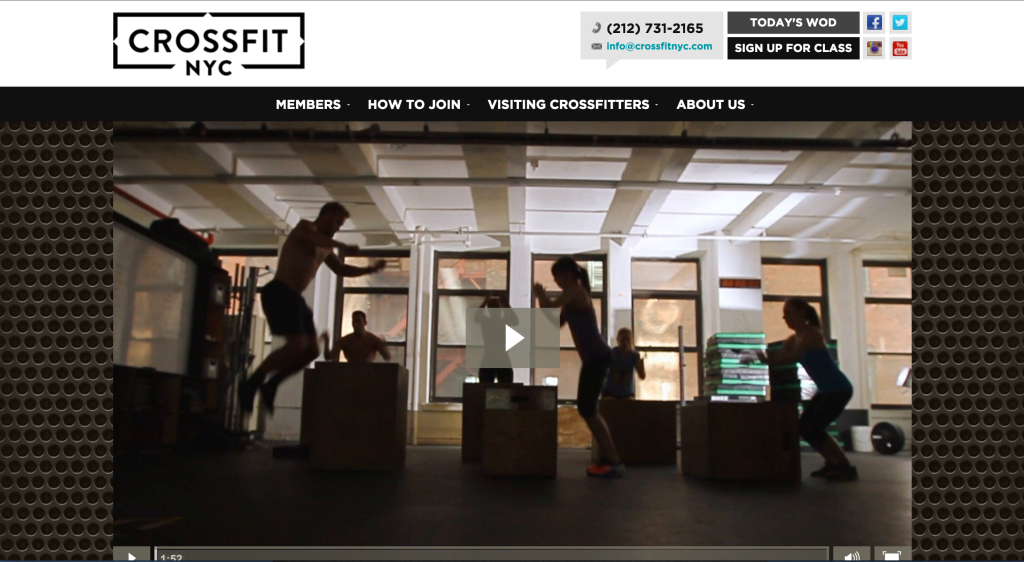 Social media sharing buttons at both top and bottom of page for easy access

And a Newsletter CTA at the bottom to boot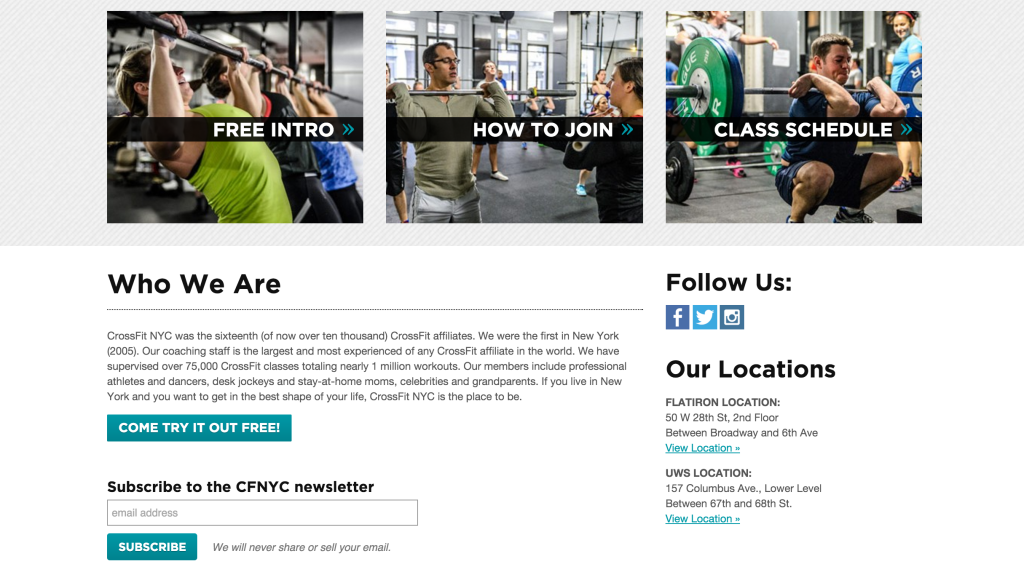 Constructive Criticism:
A testimonial or two would make the site even stronger, but we're not complaining
Strong, active imagery on homepage immediately catches visitors' attention

Free Class CTA is highly visible and has little competition on page

Contact deets and social media buttons at top right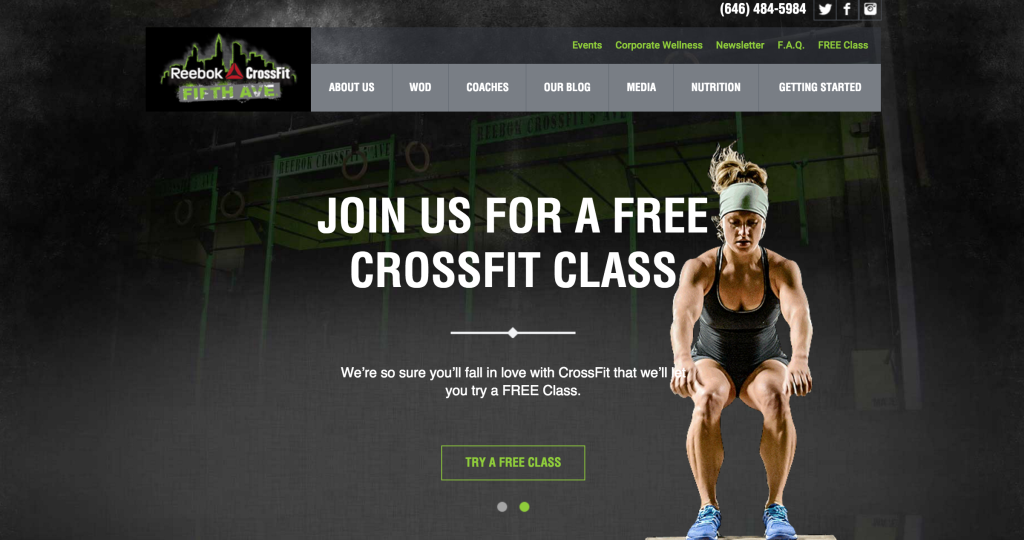 Nice, descriptive coach profiles under coaches section. Makes you feel like you know a bit about the gym already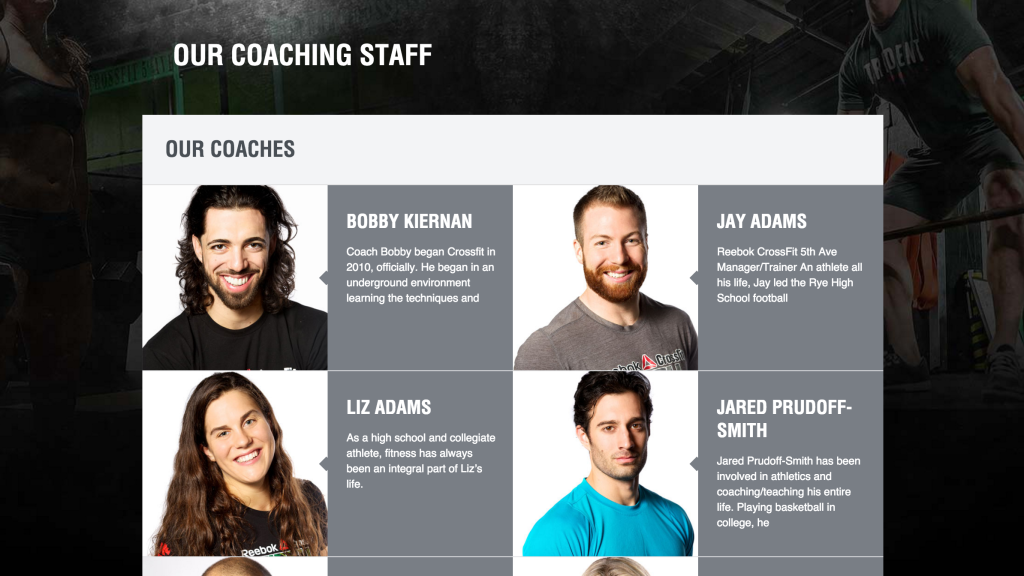 There's a blog, and it's fairly comprehensive, addressing specific problems gym-goers might have and providing answers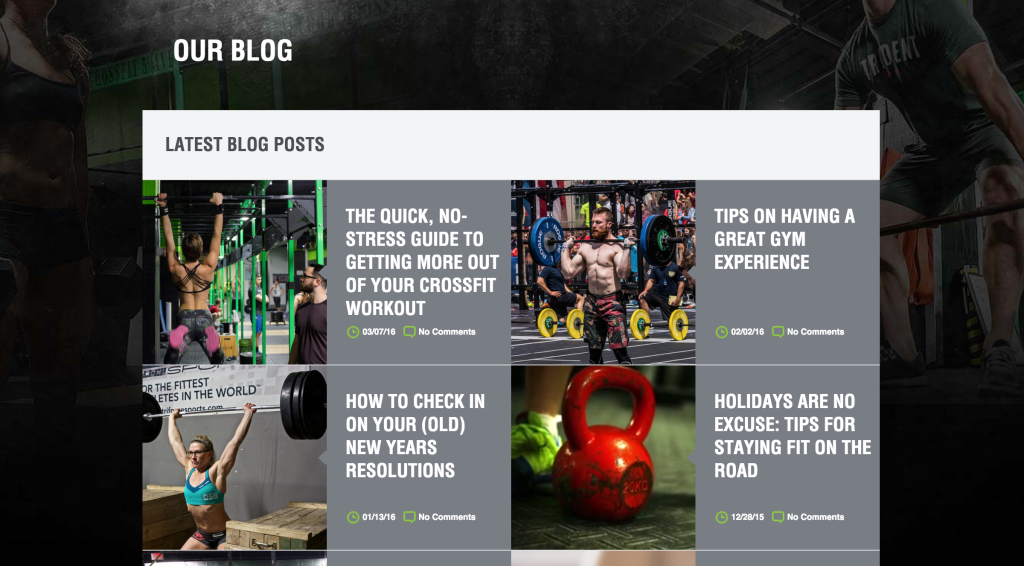 Constructive Criticism:
Homepage could be even stronger with one slide/CTA for the free class. Visitors can always navigate to About Us on their own
Clean, stylish homepage showcases the actual gym and equipment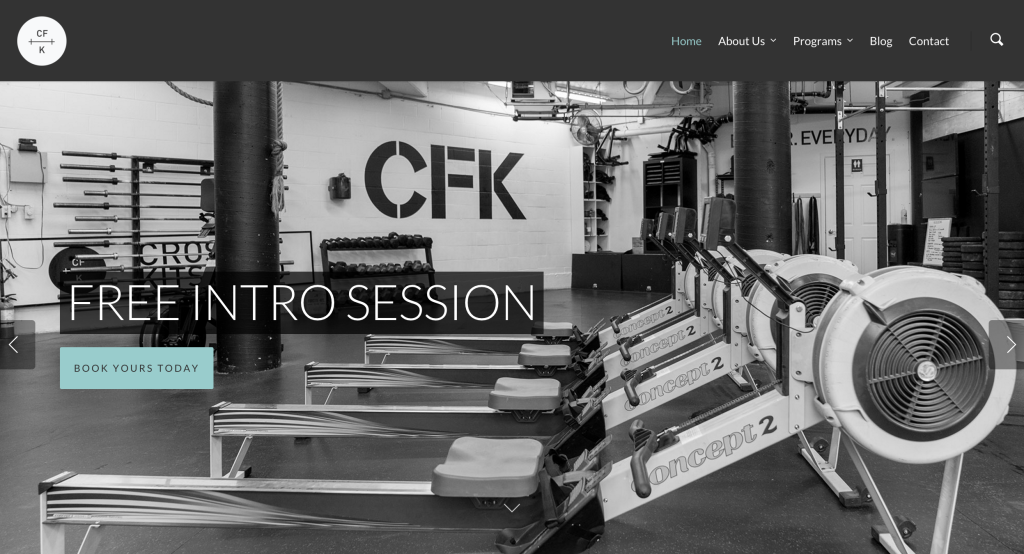 Love the two options: 'I'm new to CrossFit' and 'Not my first rodeo'. Pretty much appeals to the two groups hitting the site!

Below that is a clear company mantra, adding personality and providing a benefit to visitors

And three strong testimonials to top it all off

Constructive Criticism:
Might be nice to have coach profiles on one page, instead of forcing visitors to navigate further into site to read them
Get Your Free Marketing eBook!
Simple homepage message, 'Downtown LA's Premier CrossFit Box', gives credibility

CTA for a free week trial is directly under this message and is a strong offer

Photos of normal people working out isn't intimidating for newbies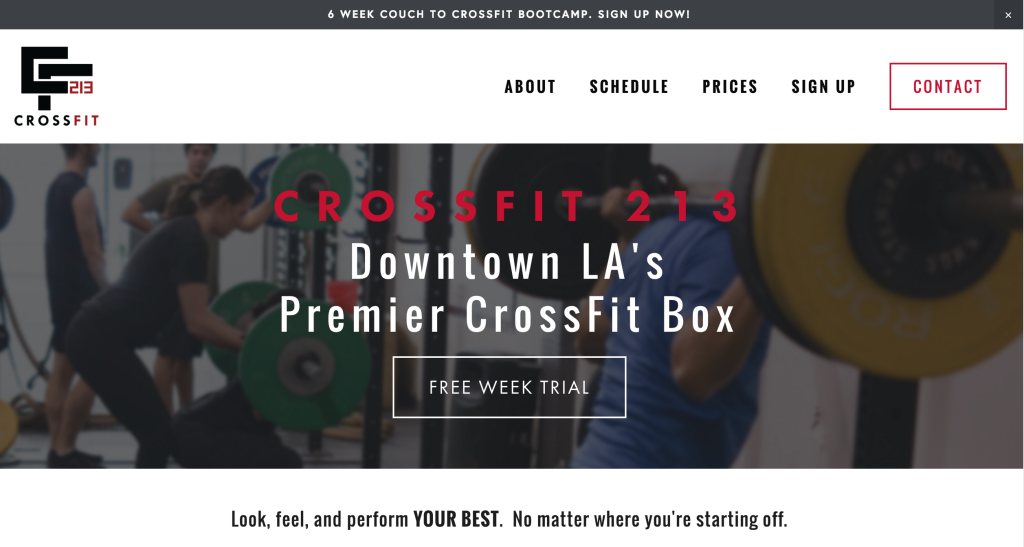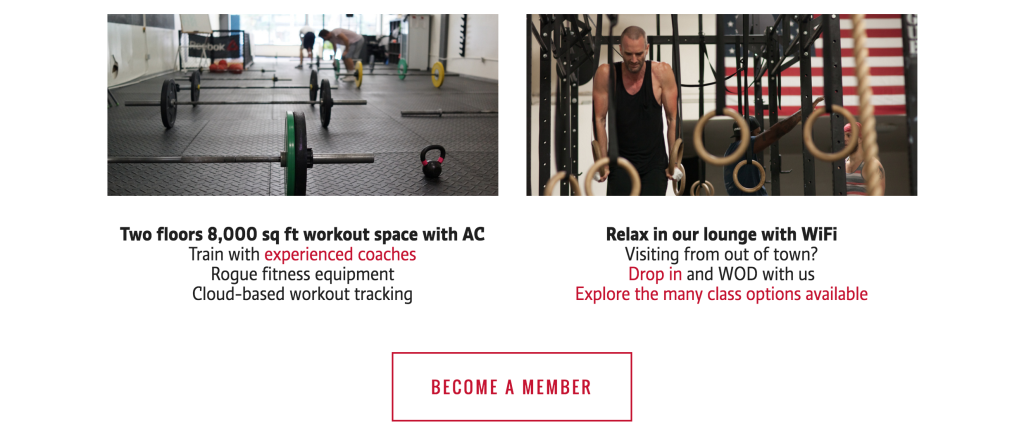 Constructive Criticism:
Social media buttons could be a bit more prominent; they're kinda stuck at the bottom
'FREE TRIAL' is highlighted in the menu, and takes visitor to a simple web form

Entire site is very easy to navigate, with no superfluous information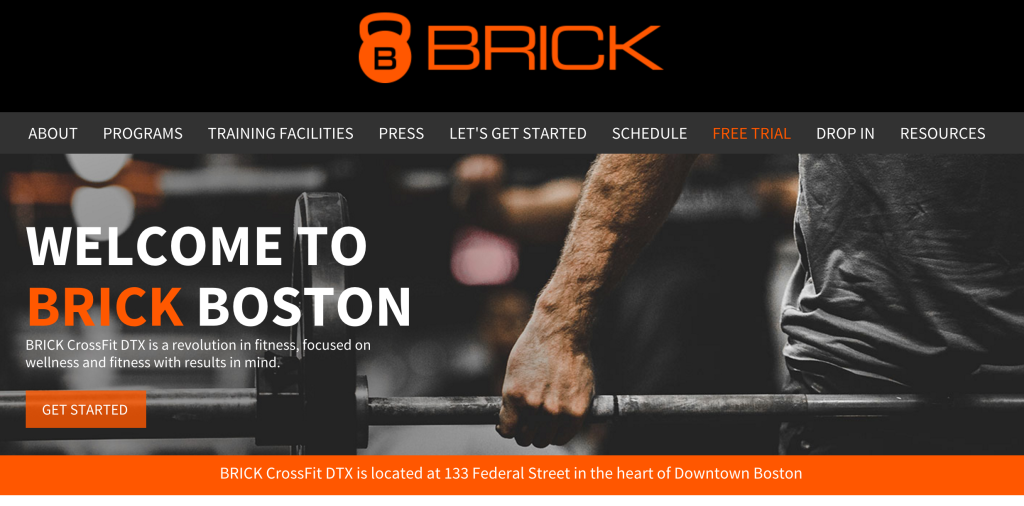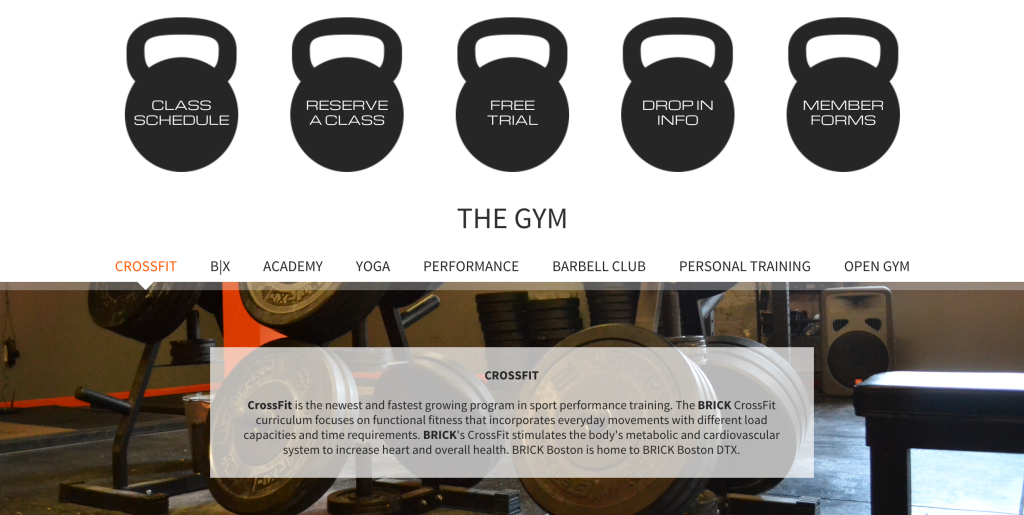 The 'Get Started' CTA on the homepage takes visitors to a descriptive lead magnet page that does a great job of highlighting the key benefits of joining their gym ("You're about to take a huge step to becoming a better, faster, stronger you.")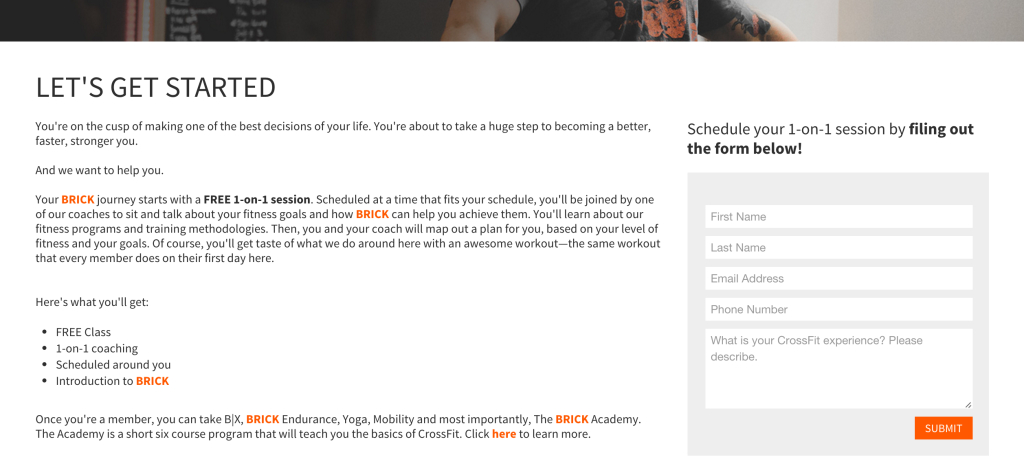 Constructive Criticism:
Their homepage headline and sub-text could be stronger; doesn't address a specific pain point or benefit and is a little generic ("a revolution in fitness")
Love the descriptive choice of CTAs: "I WANT TO LEARN MORE" or "I'M READY TO GET STARTED NOW"

The single-page format makes it easy to visitors to quickly scroll through various sections
The animated CrossFit video is cute, convincing and to-the-point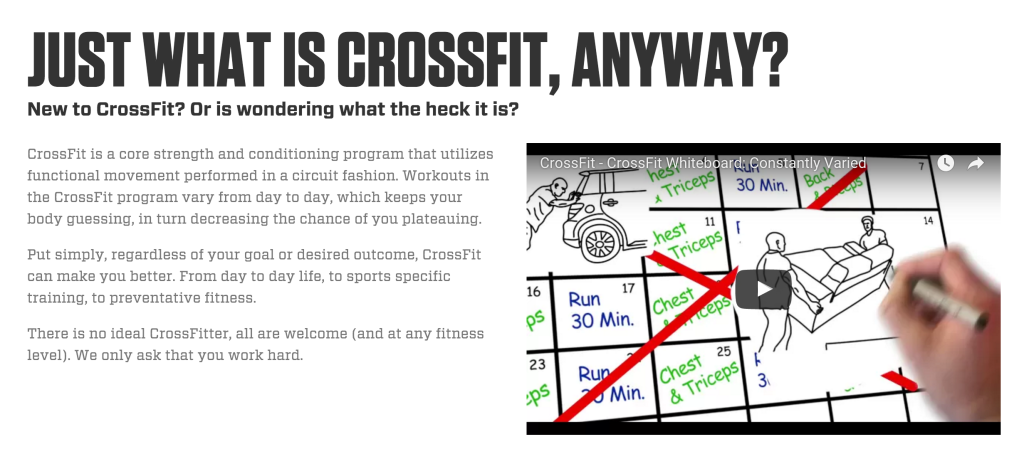 The GET STARTED section addresses a common fear in a friendly way: "A room full of sweaty people lifting things can be daunting! We've all been there and we're excited to welcome you."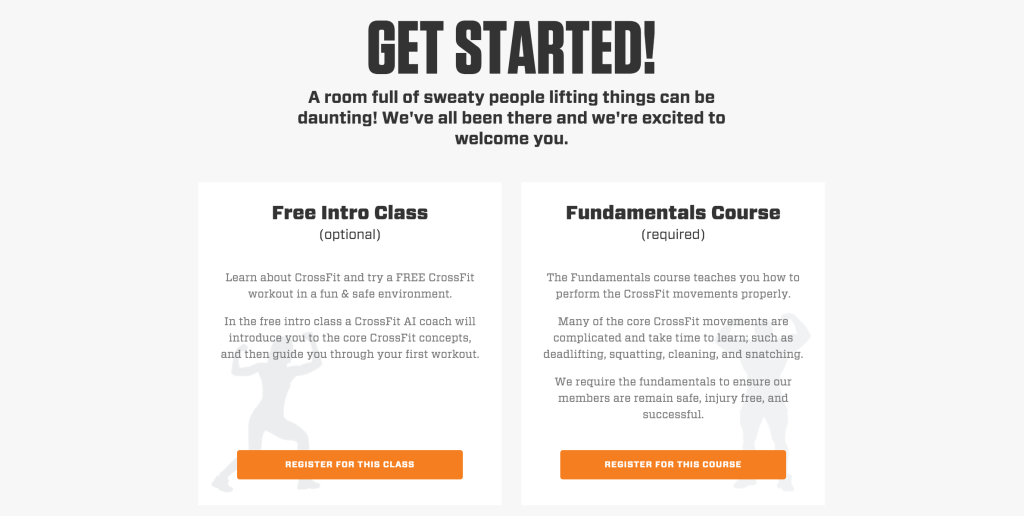 The Success Stories page is full of creative testimonials that get visitors thinking about their own goals and how this gym can help them succeed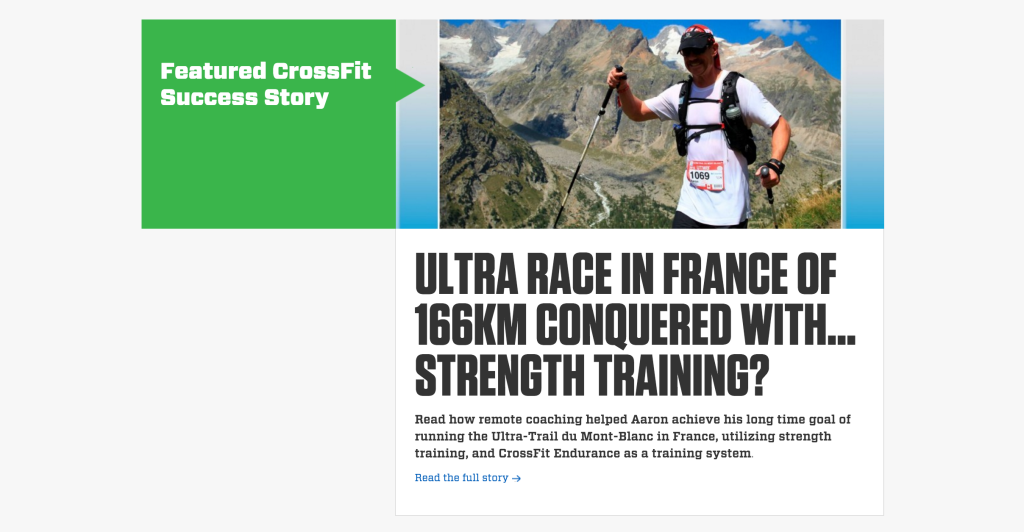 Constructive Criticism:
'KNOWLEDGEBASE' menu item might be better served by simply being called 'BLOG', as people automatically know what to expect

Clicking the logo doesn't take visitors back to the original homepage, and there's no homepage option provided
Not a lot of bells and whistles, but this simple site gets 'er done

Multiple social media icons and contact details are provided in a neat section at top right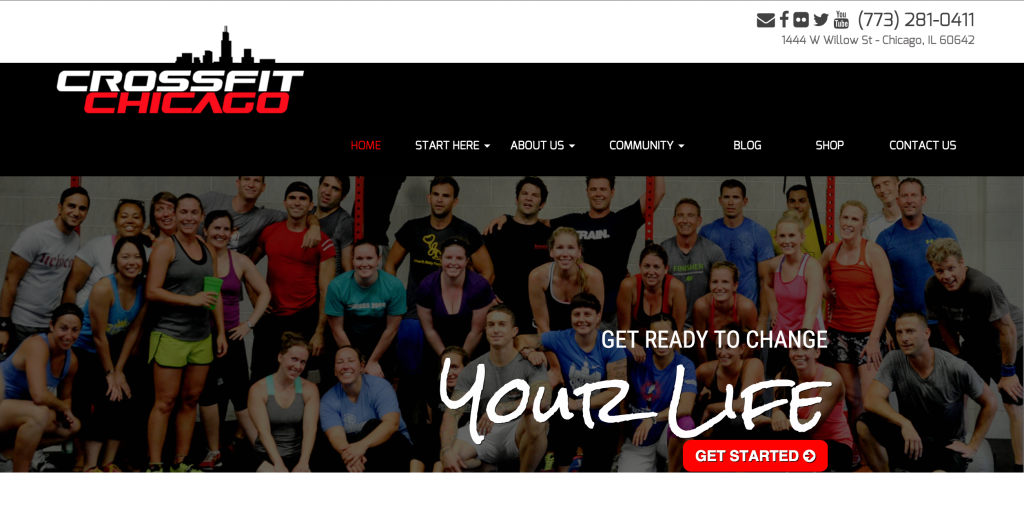 'Get Started' CTA takes visitors to a step-by-step page where they can contact the gym to sign up for a free intro session. They are also give the date and time of a community WOD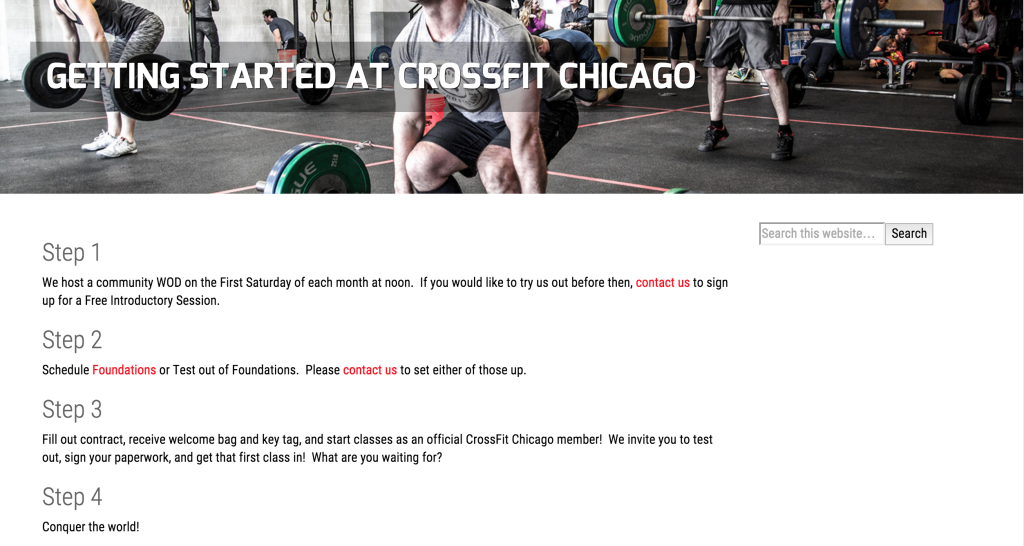 Constructive Criticism:
The rotating home screen is a little distracting, and the two photos are quite similar

Some testimonials or more info about the gym would add to the personal touch on the homepage
While the homepage does have a few rotating photos, the CTA is clear for newbies

This site does a good job of laying out basic info in a simple way

CTA is shown on every page – nice!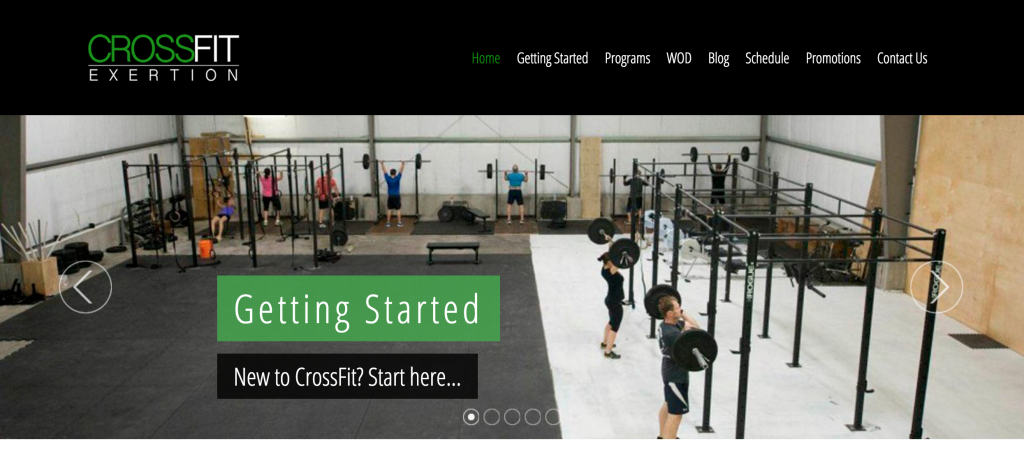 The On-Ramp registration process is laid out clearly; Click 'Sign Up' and visitor is told exactly what they'll be providing: personal info, payment details, signature and confirmation

Constructive Criticism:
The blog only has one post – perhaps it's just getting off the ground

Making the 'Getting Started' CTA available on other homepage slides would make even better use of this space
Honourable Mentions:
While the homepage doesn't have a standout CTA, this site gets points for originality and awesome use of testimonials. As soon as you land on the site, you see a bunch of real people holding up white boards with their specific goals achieved written on them.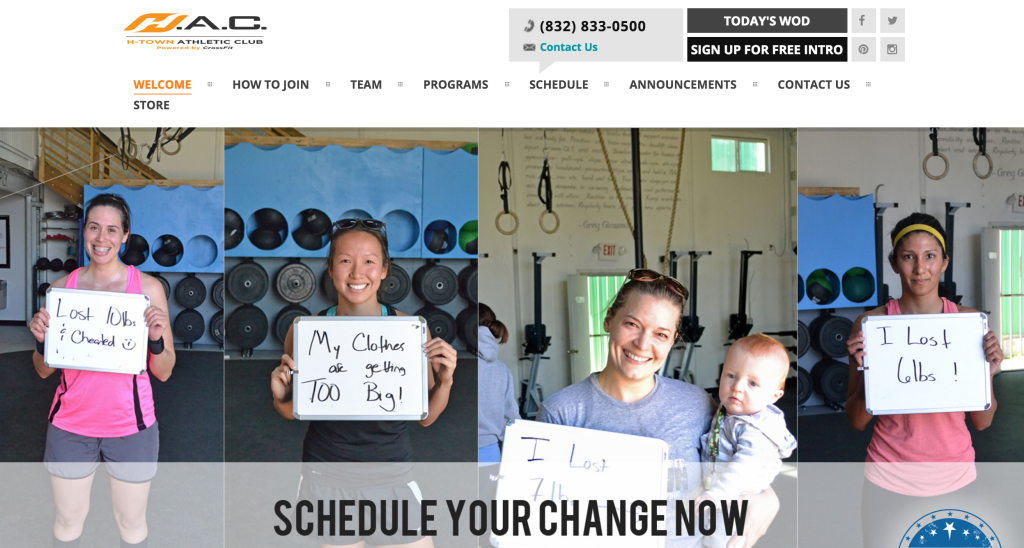 This page starts out very promisingly – a beautiful, pared back homepage with a strong image, and one clear CTA: "GET STARTED".
On the next page, visitors are introduced to the Elements and On-Ramp courses in a clear way…
Alas – clicking on 'REGISTER NOW' results in a second descriptive page and a price, with no clear way to register. So close!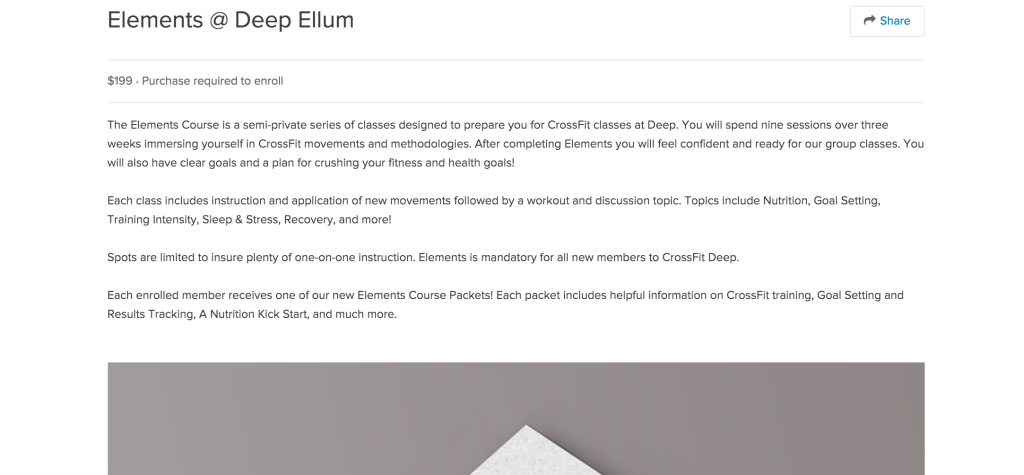 On second look, it seems there is a schedule at the bottom of this page, where visitors can click on the date range they want to enrol for:

We clicked on a date range and were taken to yet another page, this time with two calls-to-action: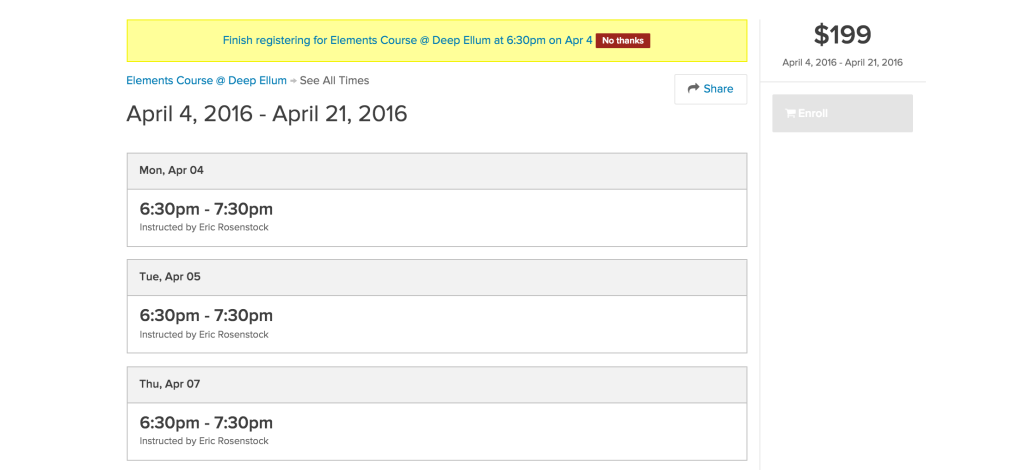 Finally, clicking on either the yellow bar or the 'Enroll' button took us to a page where we could enter our email address and get started with enrolment:

Basically, this site makes visitors go through way too many steps before they're able to provide their information and start classes. Still, points for an attractive design!
How does your gym's website measure up to the eight above? There's absolutely nothing wrong with admitting your online presence could use a tune-up. It took us several iterations before deciding on MemberTracker's (and this blog's) current look, and we will no doubt make more changes into the future. The beauty of today's site-building tools is that you have complete flexibility, lots of resources available and don't have to spend a fortune to get the website you want. So take a step back, critique your current site and make a few tactical changes. The easier it is for visitors to get a sense of who you are and how you can address their specific needs, the closer you are to that next membership sold!