Think for just a moment about how you spent your most recent marketing dollars. An ad in your local newspaper? Maybe you invested in new signage or a website makeover?
While ad agencies and eager sales reps would have every small business believing that traditional, large-scale efforts will push them into the same league as bigger players and result in immediate ROI, there is a better way! Or at least, a way that's more within your control and that works with even the most modest budget.
This September I ran a short $50 campaign which, within one week, brought in 8 students who have all continued classes until now. At $65 per month (I know, I should charge more), that is a total earning of $1560, which is a 3120% return on investment.
I decided to share our $50 marketing plan in the hopes that other instructors would find it helpful. So I've broken down how you might create a marketing campaign with a spend of only $50. You may end up surprised with how much you can accomplish. And spending your marketing dollars wisely will ultimately give your school a steadier, more predictable stream of revenue than 'flash in the pan' projects.
Ready? Let's do this!
The 6-Point Marketing Checklist for Martial Arts School Owners
Your audience and offer (Cost = $0)
Before you launch, it's smart to think about who you're directing your message to and what you'll be offering this group of prospective clients.
First, think about who your target audience is and what problem you're trying to help them solve. Do you want to provide parents with a structured-but-fun activity for their kids? Maybe you're targeting adults who are tired of a 'standard' workout and are craving a new challenge.
Once you know your audience, you can start planning your offer. The goal here is to get visitors to sign up with their email address in exchange for something of value. This could be a free intro class, a useful piece of content or another attractive offer.
Here are a few questions to get the juices flowing:
What do we offer the market that's unique, or is a cut above the competition?
What is my target audience looking for? Do they need or want something they don't currently have?
What has been the most successful method for getting new prospects interested in our classes up until now?
Once you know what you'll be offering, you can start thinking about how this will be best portrayed through headlines, copy and imagery. If you tend to struggle with these creative aspects of marketing, here are some of our favourite free resources:
fiverr.com – You can source lots of design projects here, from logos to video projects. Basic design projects start at $5 (or $6.70 Cdn).
canva.com – This easy-to-use site provides multiple templates so you can quickly create everything from Facebook header images to infographics. It's a great tool for creating visual content for your website, blog and social media posts. It's completely free to use, although you can purchase additional 'premium elements' at competitive pricing.
Setting up your opt-in form (Cost = $0)
Before you put your new offer out there in the form of paid advertising, you need to make sure that prospects have an easy way to sign up. Luckily, you should already have what you need at your fingertips!
The simplest route to an opt-in form is to add one to your existing website. If using WordPress or Squarespace, you can create a page with a 'contact us' form that emails you each time a new lead enters their information. If you're already subscribed to an email provider like Mailchimp or AWeber, they often provide tools for building simple opt-in forms.
Here are a couple of examples of effective opt-in forms: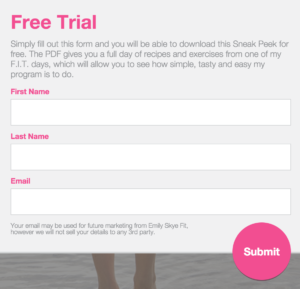 This opt-in form from Emily Skye invites her website visitors to download a 'sneak peek' of her fitness program, and keeps things simple by only asking for a name and email address.

This form on Tony Gentilcore's website offers weekly content plus a free copy of his deadlift guide. Again, he's only asking for the basics, making it more likely that visitors will opt in.
There are also a number of landing page providers on the market that each offer different templates and features. However, this is likely more than you need at this point.
Notice how simple and straightforward this landing page from Adam Bornstein is. He identifies a pain point straight away (having to rely on questionable websites for fitness information), then promises expert advice to those who sign up. Couldn't be clearer!
If you'd like more in-depth information on what to include in a landing page, check out this blog post we published a few months ago. It outlines each element of a successful landing page and how to make your offer shine.
Launching an ad campaign
This is the fun part. Because there are so many ad platforms out there, I thought I'd make things easy on you and focus on one that's produced good results for small and large businesses alike – Facebook.
Boosted Post (Cost = $10 to $20)
As you'll see, you can quickly spend $50 on your ad campaign alone. But if you want to start small, one of the easiest ads to try is the Boosted Post. This simply involves spending a few dollars to display one of your Facebook page posts at the top of a chosen audience's Newsfeed. You'll want to choose something timely, like a promotion you've just started.
All you have to do to boost your post is click the 'Boost Post' button below an existing post on your Facebook page:

A window will then appear, allowing you to choose your budget, audience and the amount of time you'd like your post boosted for.
Facebook Advertising (Cost = $25 to $50)
If you're ready to get a bit more involved with Facebook Advertising and have $25 or more to spend, it's time to set up a full campaign. We've run many Facebook campaigns here at MemberTracker. While it can seem complicated when you start out, it definitely gets easier the more you launch.
Here's a rundown of the main steps involved:
Accessing Ads Manager
If you already have a Facebook account, you'll have no trouble using all Ads Manager features. If, on the other hand, you've never set up Facebook for yourself or your business, you'll want to create an account before continuing. Visit www.facebook.com if this is the case.
Once you're logged in and on your Newsfeed, simply click 'Ads Manager' in the left-hand menu: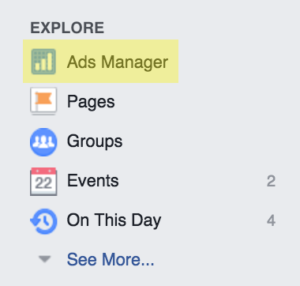 2. Creating your campaign
You should immediately land on the Campaign page, where you can start creating one. We recommend you start with the 'Send people to your website' objective, as you're inviting people to visit your landing page. This is also your first campaign, so this way you won't have to set up the Facebook Pixel right away.
For more information about Facebook's objectives, read this article from Charlie Lawrance.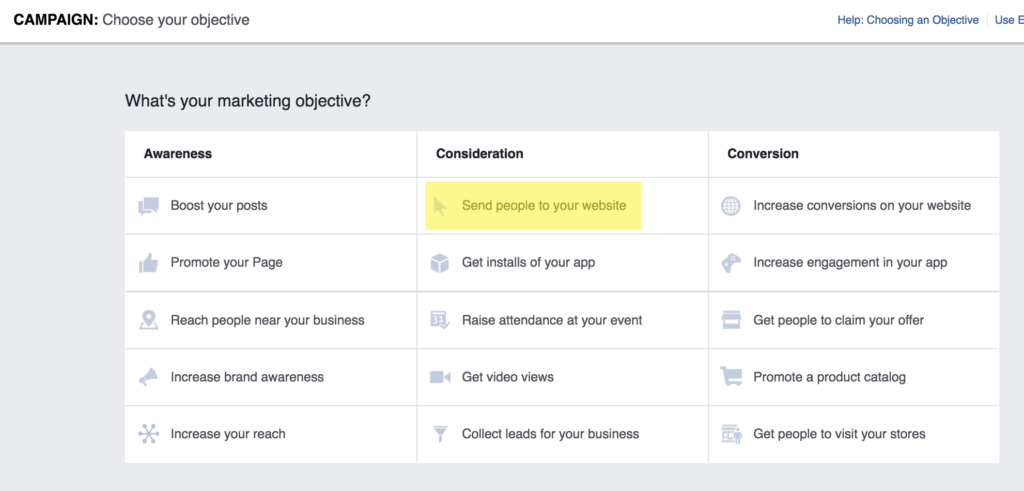 You'll then be asked to name your campaign. Choose something that you'll recognize later, for instance "Half-Price Student Offer". You can change this later if you wish.
Once you click 'Create Ad Account' you're taken to a page where you'll enter your country, currency and time zone. This helps Facebook to know how to charge your account and when to display your ads.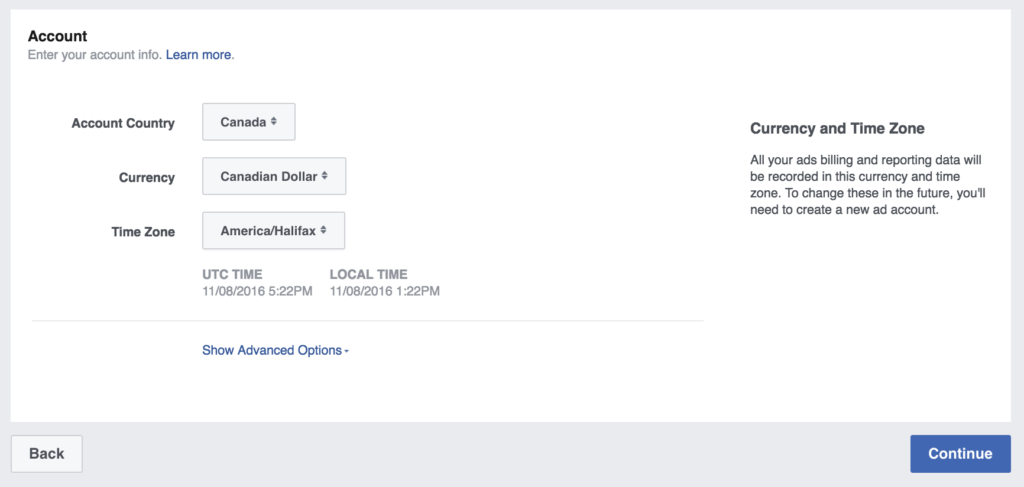 3. Choosing your audience and budget
Now you're into the meat of your campaign. When choosing your audience – the people you want to see your ads – you can use demographics like age, location and gender to narrow things down. You can also use Facebook's 'Detailed Targeting' feature to choose people who've shown an interest in a certain Facebook page, have listed a specific job and other targeting. For more details on choosing an audience, download our Fitness Owner's Guide to Facebook Advertising.
Below your audience is Budget & Schedule. Facebook will default to $20 per day. You'll want to change this to reflect your personal budget, which we'll assume is $40 for our purposes. So if you run your first Facebook campaign for one week (7 days), this gives you $5.71 to spend per day.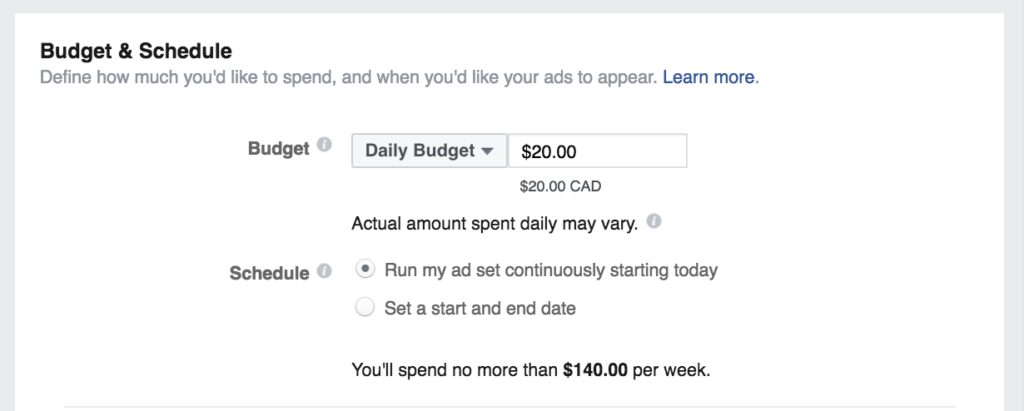 Beside 'Schedule' you'll tick the 'Set start and end date' button and set your campaign to run for one week. Now scroll to the bottom and name your Ad Set. We usually make it something related to our audience, for example, "Martial Arts Owners, CA, U.S." Click 'Continue' to finish this section.
4. Creating your ads
Now it's time to create your ads. We won't take you through every step of this process (again, check out our Facebook Ad Guide for step-by-step instruction), but here is the main ad I created for our PEI Taekwondo campaign, which resulted in eight new students: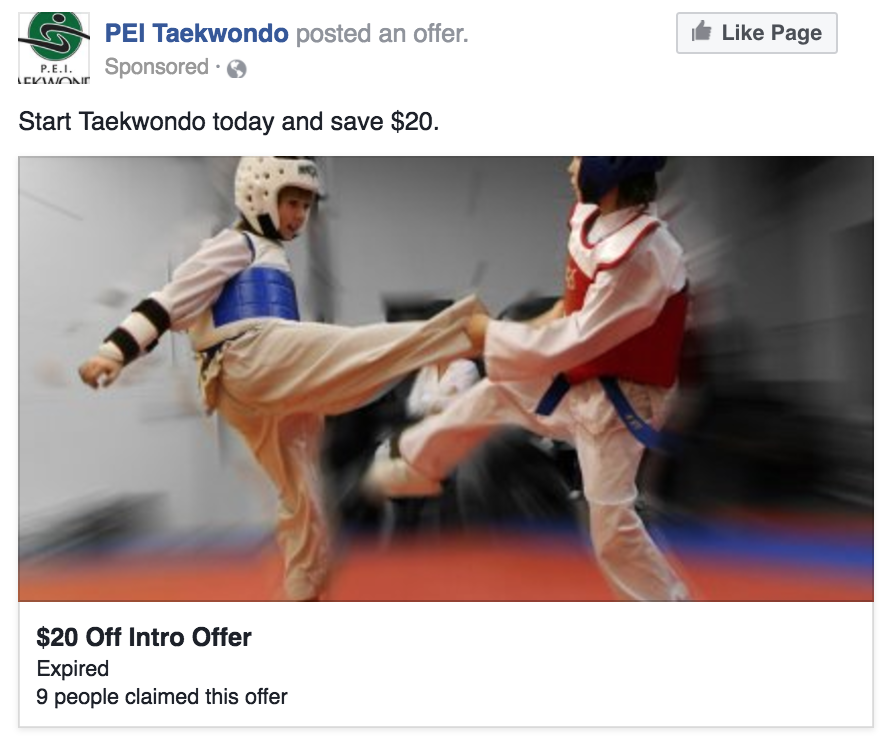 Pretty simple, right? You don't need to be an advertising whiz to come up with an ad that speaks to your target audience and converts.
---
We hope this post has given you some ideas as to how you can create a professional online marketing campaign for just $50. Part of the fun, and the challenge, is in tracking the results as your campaign progresses, making strategic changes to improve results as you go. Again, feel free to check out our Fitness Owner's Guide to Facebook Advertising if you'd like more in-depth advice on getting your campaign going.
[Download] Get Your FREE Marketing Checklist