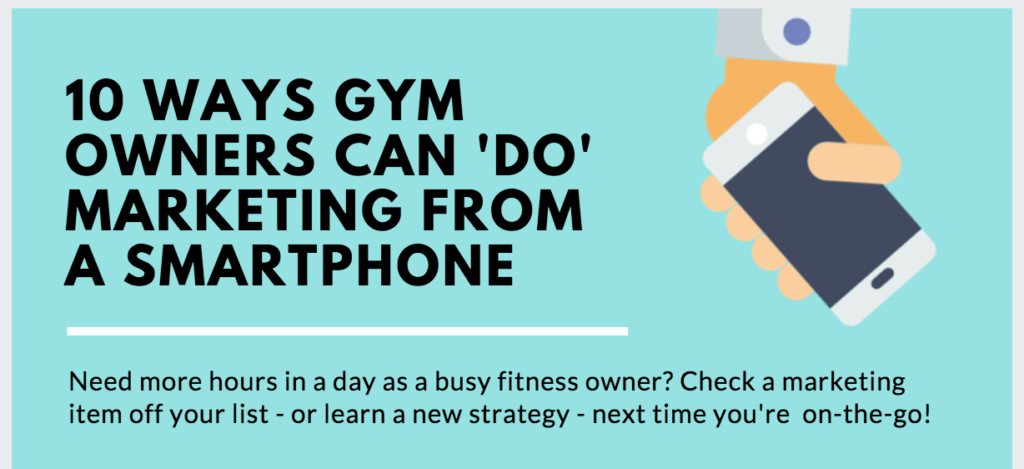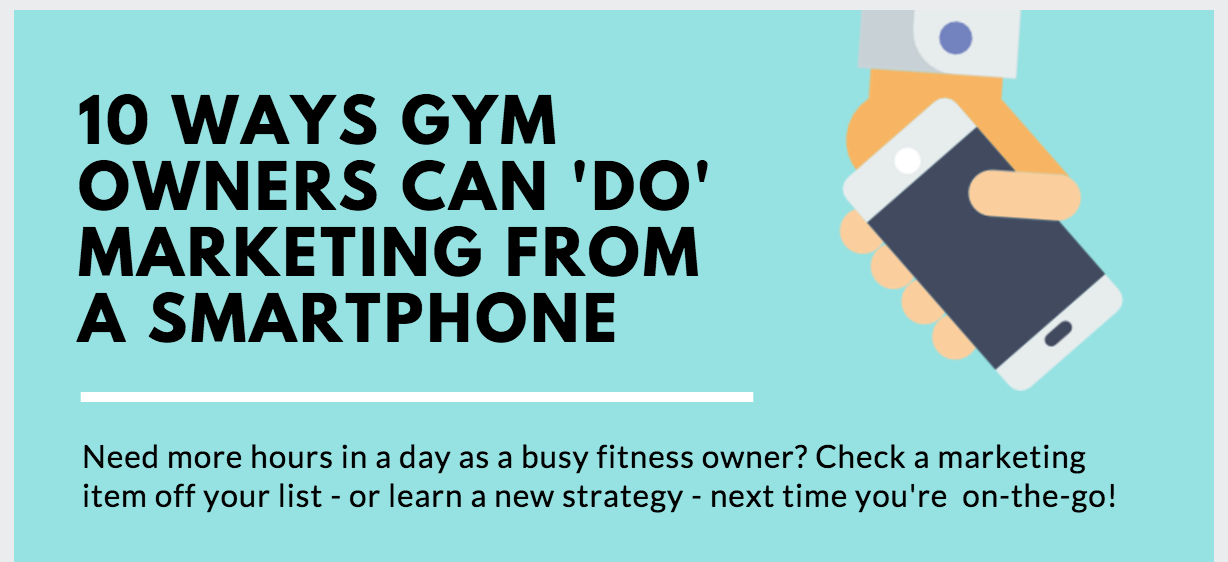 As a fitness owner you probably don't spend much time in front of a desk. In fact, avoiding run-of-the-mill 'office work' might be part of the reason you got into the fitness sector in the first place!
Even so, growing a business sometimes means taking on tasks or areas of expertise that you wouldn't normally touch with a six-foot barbell…er, pole. Marketing your gym, for example, takes significant time and a willingness to get pretty deep into territory that may not come naturally.
Luckily, today there are more ways than ever to get the word out about your gym, and more flexibility in terms of how and when this is done. The evolution of smartphones has made it almost second nature to check to-do items off your list while at the breakfast table, on the bus or even during your weekend jog.
[Free eBook] Grow Your Gym's Membership
There's never been a better time to take advantage of the technology at your fingertips, putting it to use as a marketing tool for your gym or fitness business.
Here are 10 unique ways you can promote your gym using your smartphone, wherever you happen to be!
Do keyword research
You may be aware that Google AdWords is one of the most prolific keyword research tools on the web today. What you may not realize is that you can perform a simplified version of keyword research using just your phone's browser.
Simply open your browser and start typing any search term into the URL field (or, if already on Google, their search bar). In our example, we started to type 'CrossFit' to see what potential keywords came up as a result. As you can see, Google has suggested several keywords including 'CrossFit games' and 'CrossFit workouts', based on users' previous searches.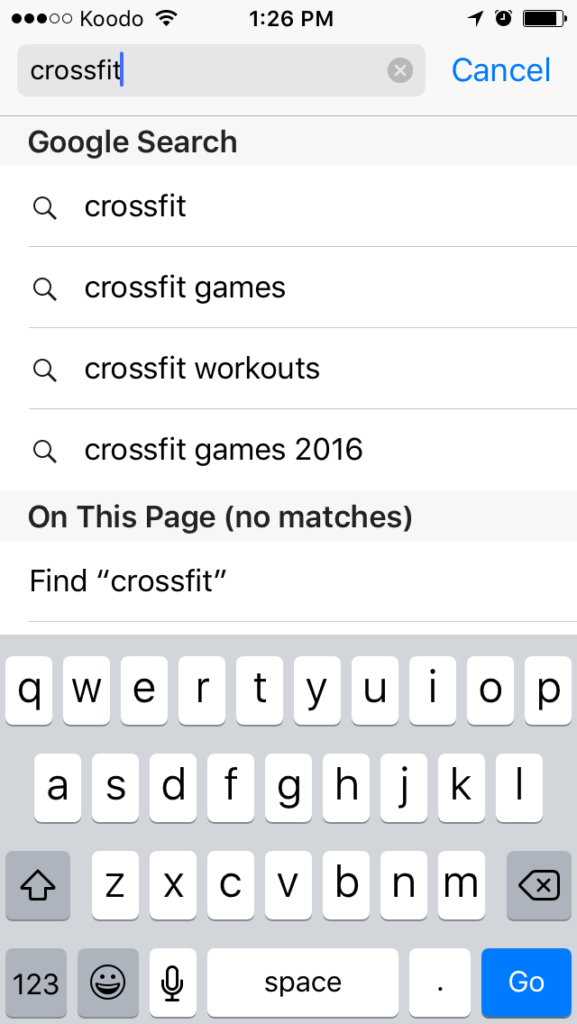 As you search the words and phrases that come to mind, be on the lookout for promising, related keywords and jot them down in your phone's notepad or in a note-taking app like Evernote.
2. Create a workout video
There's no denying that video is on the rise, both in popularity and its effectiveness as part of an overall marketing strategy. The fitness sector is especially ripe for video marketing, as so many successful fitness brands have shown through YouTube, Facebook and other platforms.
The wonderful thing about today's videos are that they can be shot pretty much anywhere, using just a smartphone. Using an iPhone for shooting video is more likely to be watched and shared online than a 'professional' video with big production value.
Next time you're enjoying a day at the beach or have a few spare minutes in the gym, ask a friend to capture a quick video of you performing a new move. You can post immediately to your social media profiles, or spend a few minutes editing beforehand. Either way, you're taking advantage of a winning strategy!
3. Synchronize your social media accounts
Have you heard of social media dashboards? They're a great way to synch up your various accounts like Facebook, Instagram and Twitter, letting you schedule posts for each platform in one place. Most dashboards also provide built-in analytics, so you can see which posts resonate with your audience, and during which days and even times of day are best for sharing. Many of these tools even let you collaborate with your team, so everyone is on the same page with your gym's posting schedule.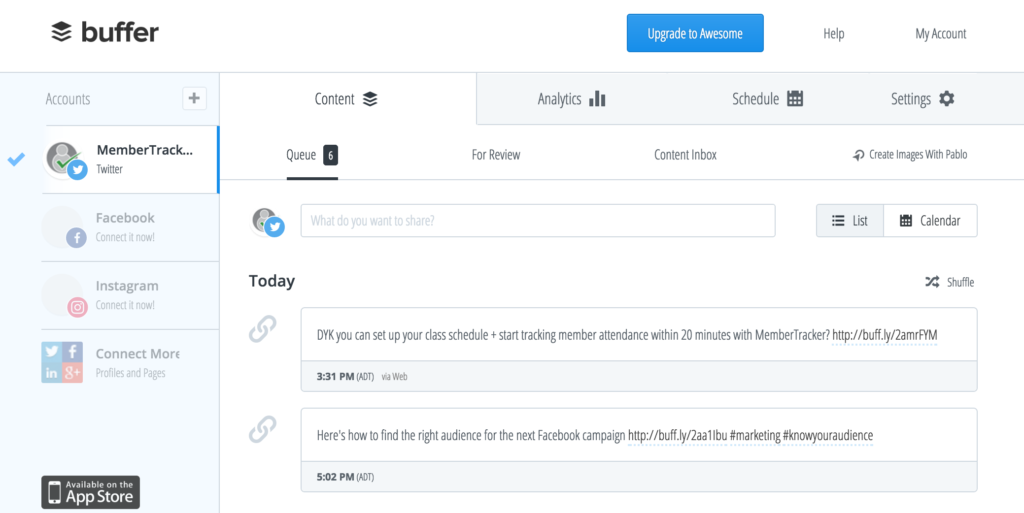 Buffer offers a free plan and is simple to use. If you're looking for a more robust solution, a platform like Hootsuite might be up your alley.
4. Snap an engaging photo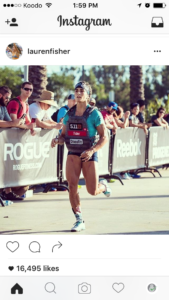 Visual storytelling will presumably never go out of style, and photos are the quickest, most flexible way to share your story with potential clients.
Platforms like Instagram have made taking and sharing photos almost second nature to even the most amateur photographers out there. With built-in editing software (albeit less sophisticated than say, Photoshop) and a streamlined posting process, it can literally take seconds to capture a moment and get it in front of your audience.
Some quick photo ideas? An inspiring shot of one of your members crushing it at your gym, an attractive pic of your facilities or a foodie photo featuring an especially healthy and colourful lunch you whipped up.
[Free eBook] Grow Your Gym's Membership
5. Read a business e-book
This is a fun one, as there are so many great options out there. And many of today's entrepreneurial books are available for a few bucks on your Kindle or other e-reading device.
Some of our favourites under $20?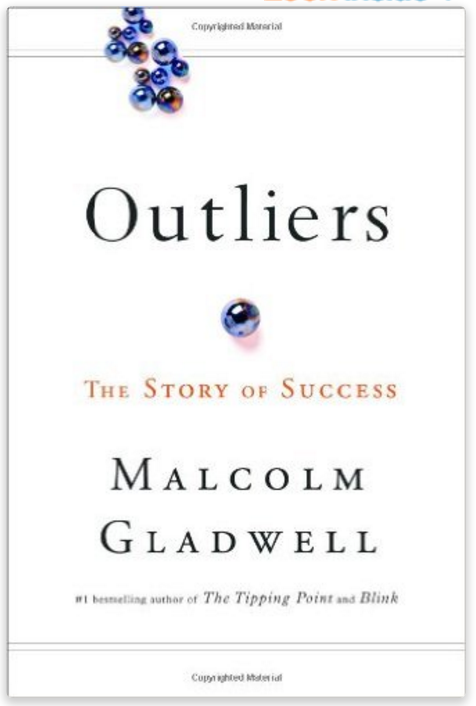 6. Find a local networking event
It's a trap that can be easy to fall into; assuming there's 'nothing going on' in your local community in terms of interesting business events. Just as limiting? The statement, 'I'll catch the next one'.
While they might not seem very cool, networkers are still a valid way of getting your gym's name out there. What's more, they give you an opportunity to rub elbows with fellow business owners in your local area. The relationships you forge at this level can turn into opportunities later. You might decide to partner with another owner in the fitness and health industry on a joint promotion, or share email lists down the road.
Not sure where to start? Search for local events on Google using words like 'networking', 'small business' and 'mixers'. Your local chamber of commerce should also be in the know about upcoming events.
7. Write a piece of content
Inspiration hits each of us differently, but it can't be argued that some of the best ideas come when we least expect them. When that happens, you want to be prepared to get those thoughts down on paper, or a screen!
Mobile apps like JotterPad and iA Writer make it easy to either jot down a few notes or create a full-blown article with just your phone and your thoughts. Stuck on content ideas? Think about what problem or question your ideal client is facing (holiday weight gain, not enough time to work out each day), then think about how your own experience and training can inform an answer to this issue. Provide an actionable solution, and don't forget to use simple, straightforward language when doing so.
8. Subscribe to a marketing podcast
Along with all the great business books out there are dozens of informative podcasts that cover everything from starting your first business to launching an email marketing campaign. Most podcasts are available on iTunes, if you have an account. Or you can usually visit the podcast's own website to download individual episodes.
Our favourites? There are almost too many to choose from, but here goes…

9. Plan visual content
Whether on a blog or as a social media post, visual data has taken the marketing world by storm, and for good reason. The average Internet consumer loves taking in facts through engaging visuals like infographics, memes and even comics.
How can you jump aboard and create something truly memorable for your audience? Well, first you need a topic and a message. Search websites like visual.ly for content that's already out there; if you can build on an existing idea and make it even better, that can work well. Or, take a well-performing blog post or article you've already written and repurpose it as a visual piece.
In terms of the tools you'll need, Canva and Piktochart are both easy-to-use solutions, and Canva recently launched a mobile app for iPad, making it easy to create visuals anywhere.
10. Email your list
Email may be one of the oldest online marketing tools, but it's also one of the most effective, year in year out. First, come up with a topic or offer that will entice your members. A free class can be a good incentive to bring members back who haven't worked out in awhile. Or perhaps an educational piece about less common ways to improve a particular muscle group.
Each sentence in your email has only one job – to get the recipient to read the next line. The subject line is even more important, as its job is to get someone to open the email!
Once you know what you're writing about, there are a few key elements to ensure an email that does its job:
Strong subject line: A general rule of thumb among copywriters is to spend as much time on your headline as on the body of your message; the same goes for your subject line! It should provoke curiosity while remaining to-the-point. What can you say here that grabs your reader's attention above the dozens, even hundreds, of other email he or she sees in the inbox?
'Real person' point of view: Your email should be written in the first-person and use language that's similar to how you would speak. Compare these two sentences to see what we mean: "Today Joe's Gym is pleased to offer our loyal clientele a very special offer…" versus, "Hey, since you enjoyed our last Core Class, I thought you might enjoy a discount on our new…" See the difference? The first speaks from a perspective that somewhat alienates itself from its audience, while the second gets right to the point while still sounding friendly and approachable.
Call-to-Action: Somewhere in the body of your email you will need to tell readers exactly what you'd like them to do. In others words, give them a clear action to take once they finish reading your email. Instead of something vague like, 'Subscribe Here', make it something specific: 'Download your copy now' or 'Sign up for Eight Weeks of Hot Yoga!'
Mailchimp offers a free plan for sending emails to your list and includes various templates. There are plenty of email automation tools out there if you're looking to step up your email game; check out Drip for starters.
---
There you have it, 10 ways you can put your phone (and your spare time) to work for your gym. Breaking your marketing down into manageable pieces can turn an overwhelming task ("I need to get 'x' new members by September") into a motivating – dare we say enjoyable – one.
Make sure to track the results of each of your marketing efforts so you can tweak and improve as you go. Good luck!